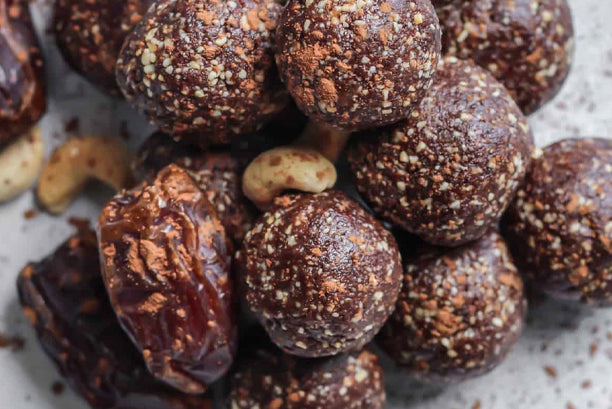 Ingredients
2 cups

 

cashews (raw or toasted)
1 cup

 

Sacred Glow Co Collagen Whey Protein - Chocolate
1/2 cup

 

unsweetened cocoa powder (or cacao)
18

 

large Medjool dates, soaked for 5 minutes in warm water and pitted
2–4

 

TBS water
Directions
In the bowl of your food processor process cashews, Sacred Glow Co Collagen Whey Protein, and cocoa powder until nuts have broken down into small pieces. Don't process them too much, you still want pieces remaining. 
Add in pitted dates and process until combined–the mixture will look a little dry. With the motor running add about 1 tablespoon of water at a time until mixture is sticky and everything comes together. Depending on if your dates were juicy or dry, you may need less or more water. Careful not to add too much water or mixture will be too sticky. If this happens, add about 1 tablespoon of coconut flour to absorb some of the moisture.
Remove the mixture from your food processor and using a round tablespoon, scoop mixture and roll into balls between the palms of your hand. Place on a lined baking sheet and continue this process. You should have about 30 energy balls.
Store protein balls in an airtight container in the fridge up to two weeks, or freezer about 3-4 months.