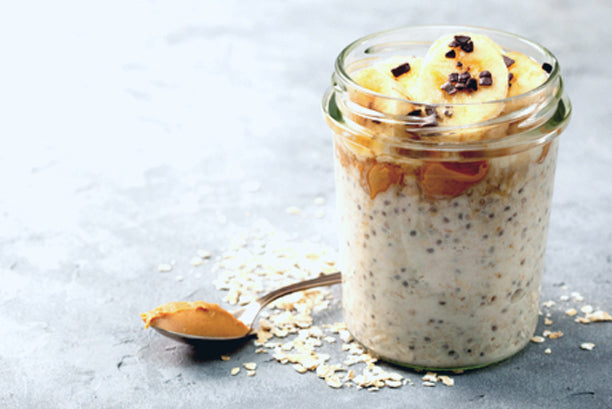 Ingredients
¼

cup old-fashioned oats or rolled oats
1 ½ Tablespoon Sacred Glow Co Collagen Whey Protein - Vanilla

¼ cup of milk or milk substitute

½ Tablespoon of honey

½ teaspoon of vanilla extract

Pinch of salt
Banana, peanut butter & chia seeds to serve
Directions
Use a tight-sealed container, such as a mason jar, and fill with all ingredients.
Stir to combine and let chill in the refrigerator overnight.
When ready to enjoy, give another generous stir and dig in or add your favorite toppings such as banana, peanut butter & chia seeds.
We recommend you add our Vanilla Collagen Whey Protein Powder to your overnight oats to make them even more tasty, our Vanilla Collagen Whey Protein is the perfect blend of New Zealand Grass-Fed Whey Protein and Hydrolysed Collagen Peptides to support your skin, hair and nail health whilst also assisting with muscle toning and recovery.