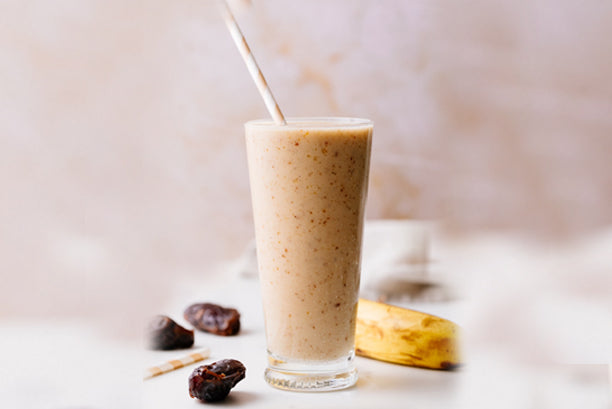 Ingredients
1 ½ Tablespoons Sacred Glow Co Collagen Whey Protein - Vanilla

½ cup milk or milk substitute (add more of less for desired thickness)

1 frozen banana – adds creaminess and is good for gut health.

Handful of 

i

ce cubes
2 Medjool dates 
2-3 drops vanilla extract/essence 
Directions
Combine the dates, banana, vanilla, ice cubes, and milk / milk subsitute into a blender cup.
Blend until smooth, about 1 – 2 minutes. Add a splash of extra almond milk if needed.
Pour into serving glass and enjoy.
Our Vanilla Collagen Whey Protein is the perfect blend of New Zealand Grass-Fed Whey Protein and Hydrolysed Collagen Peptides to support your skin, hair and nail health whilst also assisting with muscle toning and recovery, which makes it the perfect ingredient to add to your smoothie.