Regular price
Dhs. 159.00 AED
Regular price
Sale price
Dhs. 159.00 AED
Unit price
per
Sale
Sold out
التفاصيل والفوائد

طبيعي بالكامل، منخفض الكربوهيدرات، مع مستويات عالية من الألياف، يساعدك البروتين النباتي الخاص بنا في تلبية احتياجاتك اليومية من البروتين مع إضافة قوام كريمي إلى عصائر السموثي.

مناسب للنباتيين
بروتين لنحت وتعافي العضلات
طبيعي بالكامل
سهل الهضم والامتصاص من قبل الجسم

المكونات وطريقة الاستخدام

بروتين بازلاء معزول، بروتين أرز، بروتين عباد شمس عضوي، بروتين يقطين عضوي، نكهة ومحلي طبيعي (ستيفيا)

أضيفي 2 ملاعق كبيرة ممتلئة إلى الماء (أو أي سائل من اختيارك) في خلاط أو كوب مزج. اخفقيها أو اخلطيها جيداً واستمتعي بها!

يحفظ في مكان بارد وجاف بعيداً عن أشعة الشمس المباشرة.




المعلومات الغذائية
View full details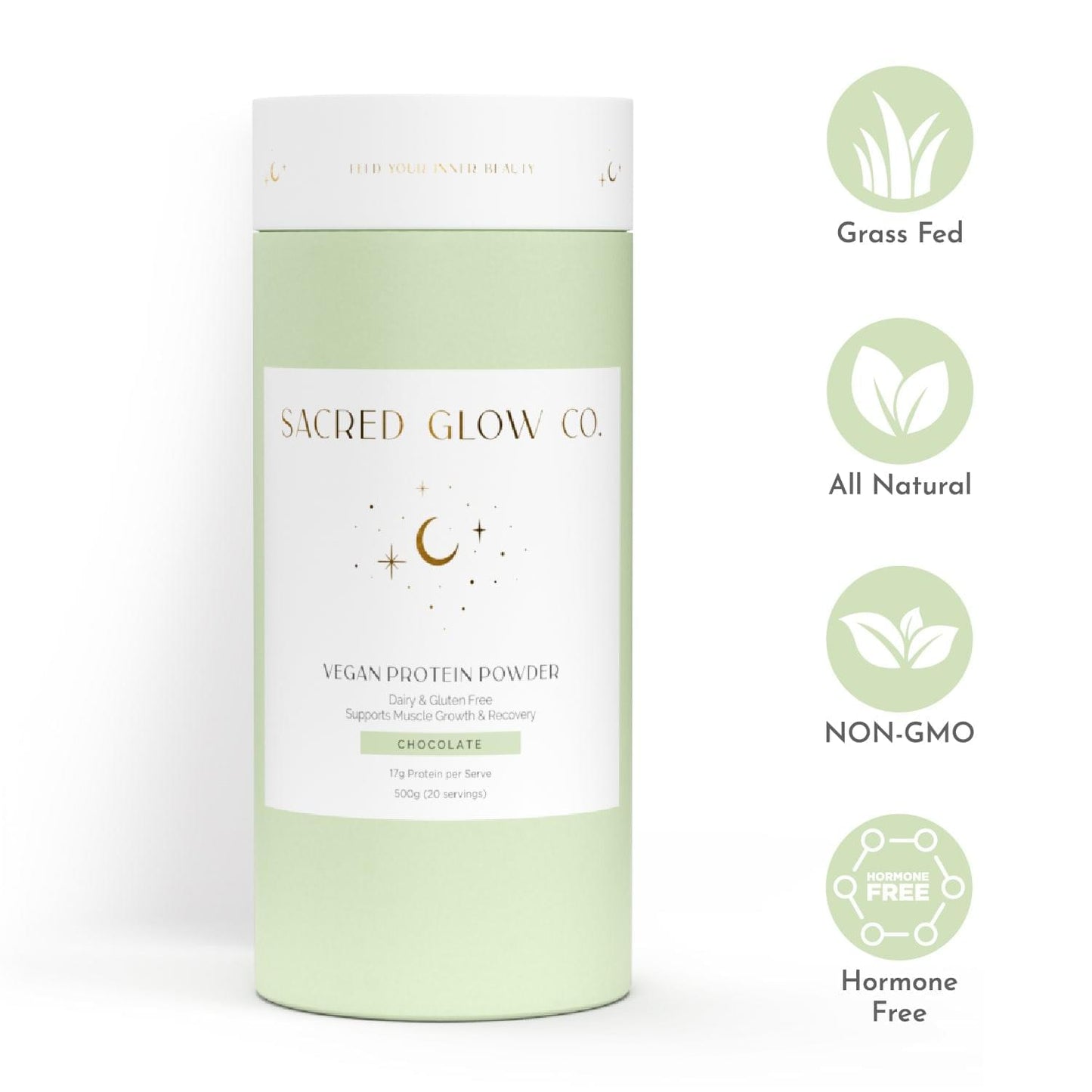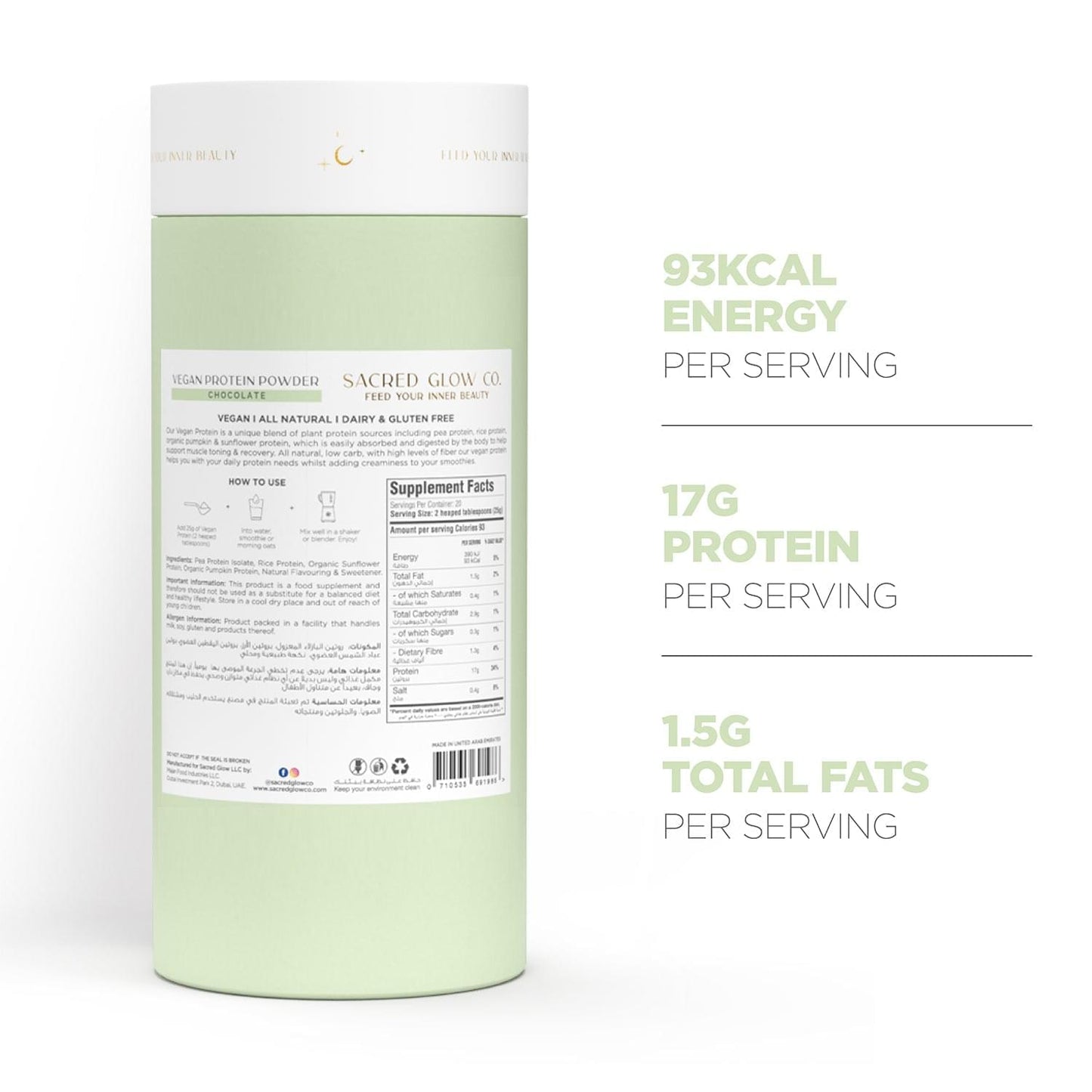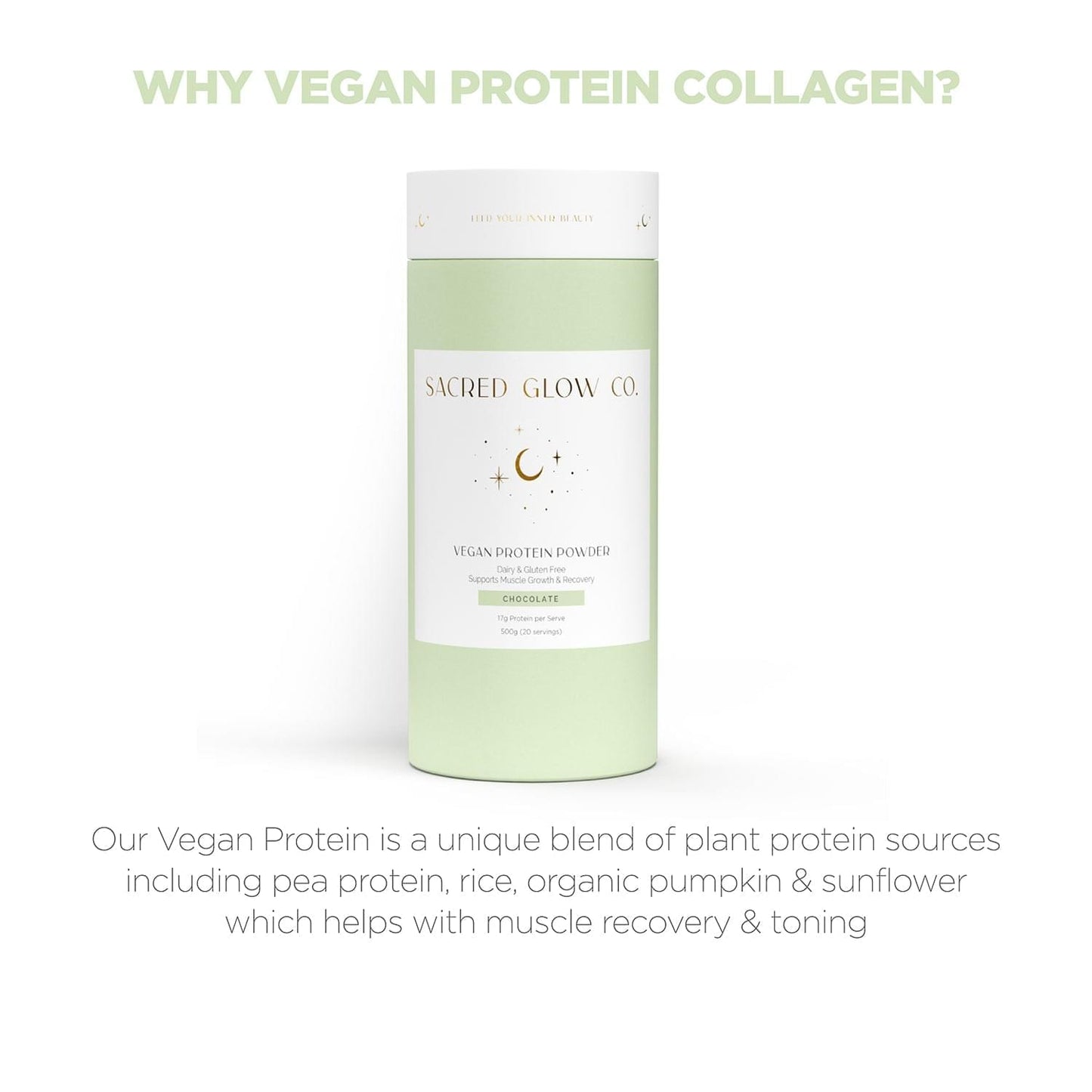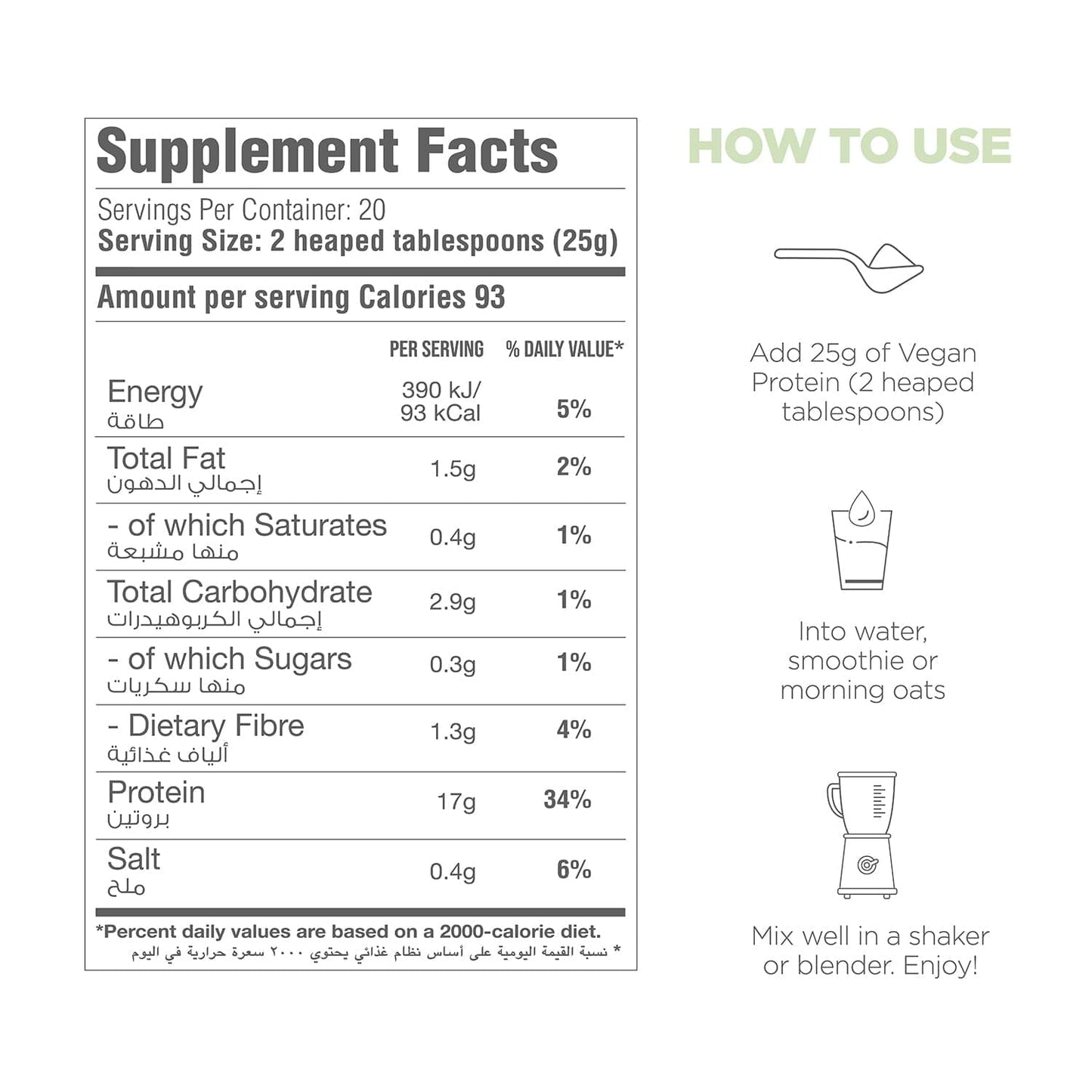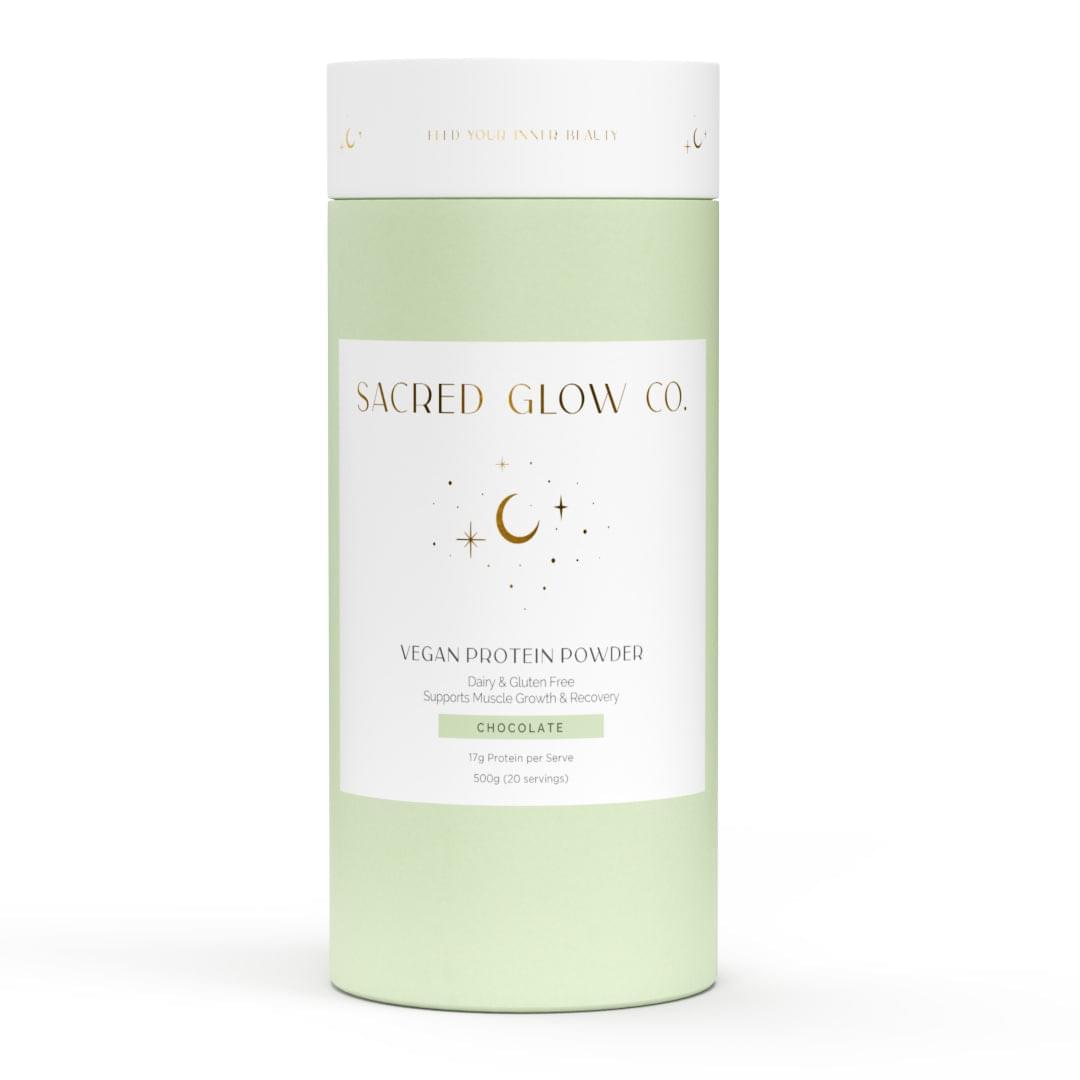 For muscle toning, recovery and overall health. Glow from the inside out!
Collapsible content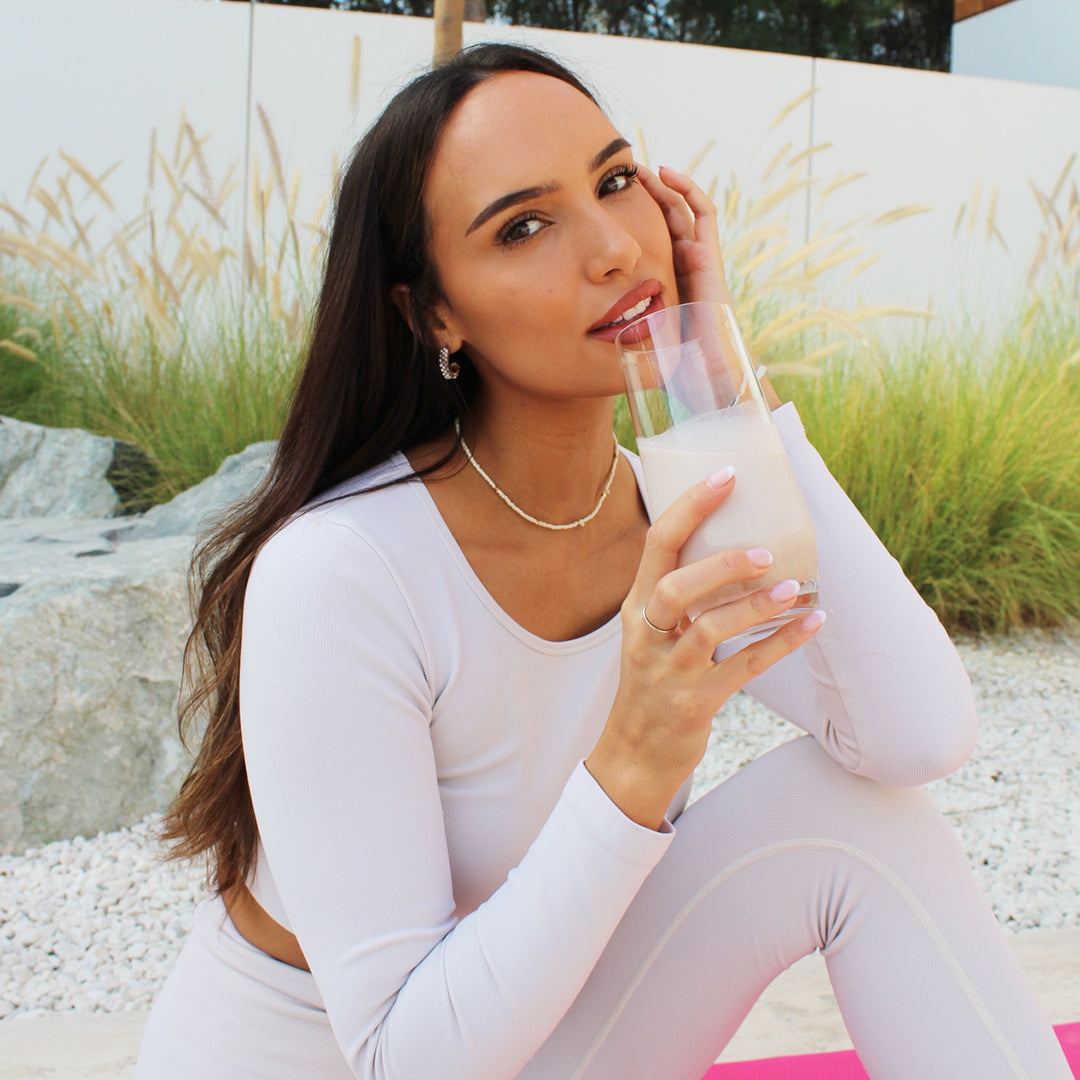 A premium vegan blend containing 4 different vegan proteins, a complete amino acid profile and all natural ingredients!
4 Vegan Proteins

Our formulation is incredibly unique with Pea Protein Isolate, Brown Rice Protein, Organic Sunflower & Pumpkin Protein.
All Natural

We only use all natural ingredients to formulate our vegan protein, ensuring there are absolutely no nasties!
Delicious Flavours

Sacred Glow Co. Vegan Protein Powder has been delicately refined so it tastes absolutely perfect when you add to your daily protein needs whilst adding creaminess to your smoothies.
Nothing Artificial

That's right, no artificial preservatives, fillers or additives. It's 100% guaranteed.
Plastic Free

We've redesigned our packaging to be more sustainable, without any compromise on luxury.
Collapsible content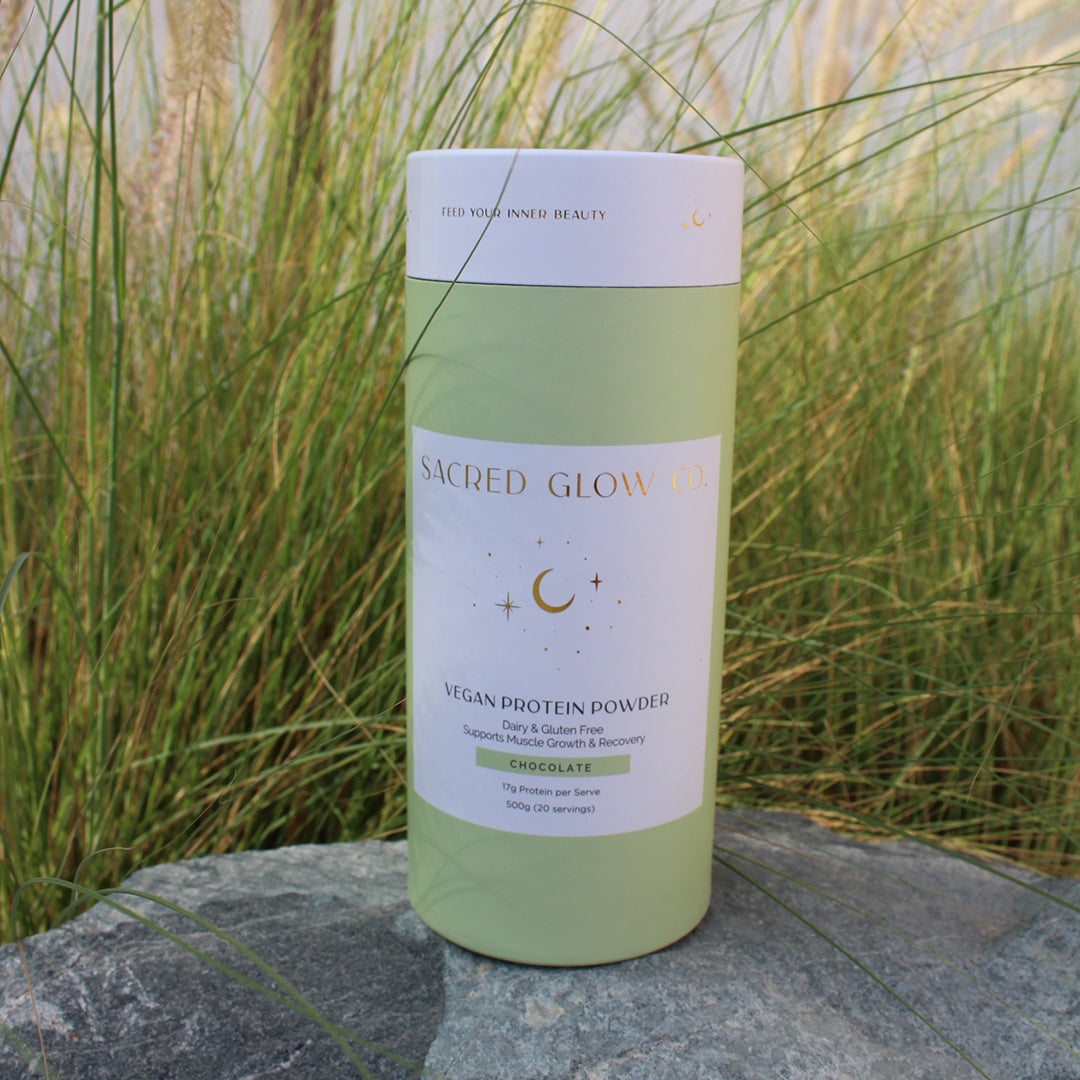 Our Vegan Protein is a unique blend of plant protein sources including pea protein, rice, organic pumpkin & sunflower which helps with muscle recovery & toning.
Muscle Toning

Build & tone muscle on a vegan diet with the help of our Vegan Chocolate Protein. Studies show that Vegan Protein is just as beneficial for muscle mass and strength as animal protein.
Muscle Recovery

Our Vegan Protein provides you with plenty of protein from 4 different vegan proteins to fuel your post-exercise recovery.
Complete Amino Acid Profile

Our Vegan Protein powder has a complete amino acid profile and is 100% natural.
Weight Loss

Trying to lose weight? Our Vegan Chocolate Protein is great for keeping you full for longer. Vegan Protein that is high in protein.
Health & Wellbeing

Our Vegan Protein offers high protein, 100% plant based nutrition for strength, fitness, health and wellbeing.
Digestion

Say goodbye to indigestion! Vegan Protein powder helps with indigestion and prevents bloating & gas.
Why settle for supplements that are not clean, pure and best in class? Feed your inner beauty with Sacred Glow Co.
The Sacred Glow Co. Secret for Success

Comparison

Us
Them

Premium Ingredients

All Natural

Delicious Flavours

No Artificial Ingredients

Gluten Free and Non-GMO

Fresh Small Batch Manufacturing

Proven with 5 Star Reviews

Plastic Free Packaging
Frequently Asked Questions
Collapsible content
What are the benefits of our Vegan Protein?

Our all natural, low carb, vegan protein will help with muscle toning and recovery.
Whats special about our Vegan Protein?

Our Vegan Protein is made from a premium blend containing 4 different vegan proteins, a complete amino acid profile and all natural ingredients!
How can I use Vegan Protein?

Add 2 heaped tablespoons to water (or any liquid of your choice) in a shaker or blender, shake /mix well and enjoy!
Love it!
Really enjoying the protein; has a great taste, texture and consistency and doesn't taste artificial
Best vegan taste
I've always hated the taste of any vegan protein powder as they just taste of dirt but the glow one mixes well and tastes good, even with just water. The consistency is thicker! So happy I finally found a good brand in the UAE
Great tastes
I got the vegan powder in chocolate have purchased twice, lovely flavour very smooth. I also add the collagen vanilla in my protein shakes and coffee. The taste is amazing. Will continue to use for longer so I can really see the results. Also love the packaging
The best vegan protein!
After trying many vegan proteins, i am so happy i found this one!!! It is SO tasty and light to digest also! Absolutely love it and will be getting more!!
Delicious
Really delicious vegan protein shake. I've tried so many in the past which I've ended up throwing away because they tasted so bad. This has no aftertaste, isn't overly sweet and mixes really well - great way to add more protein to a vegan diet.