Regular price
Dhs. 149.00 AED
Regular price
Sale price
Dhs. 149.00 AED
Unit price
per
Sale
Sold out
Details & Benefits

Providing 20g of protein, of which 10g is hydrolysed bovine collagen and 10g of grass fed whey protein per serving. This high dose combination assists with healthy hair, skin and nails whilst also supporting muscle recovery.

Hydrolysed collagen peptides to assist with healthy hair, skin, nails & joints.

Whey Protein to support muscle toning and recovery.

All Natural.

Easily digested and absorbed by the body.

Ingredients & How To Use

Hydrolysed Collagen Peptides (Bovine), Grass-Fed Whey Protein, Natural Flavour and Natural Sweetener (Stevia)

Add 2 heaped tablespoons to water (or liquid of choice) in a shaker or blender. Shake / mix well and enjoy!

One serving per day will have you seeing visible results, if you prefer to fast track you can have one serving in the morning and one in the evening

Store in a cool, dry place out of direct sunlight

Supplement Facts
View full details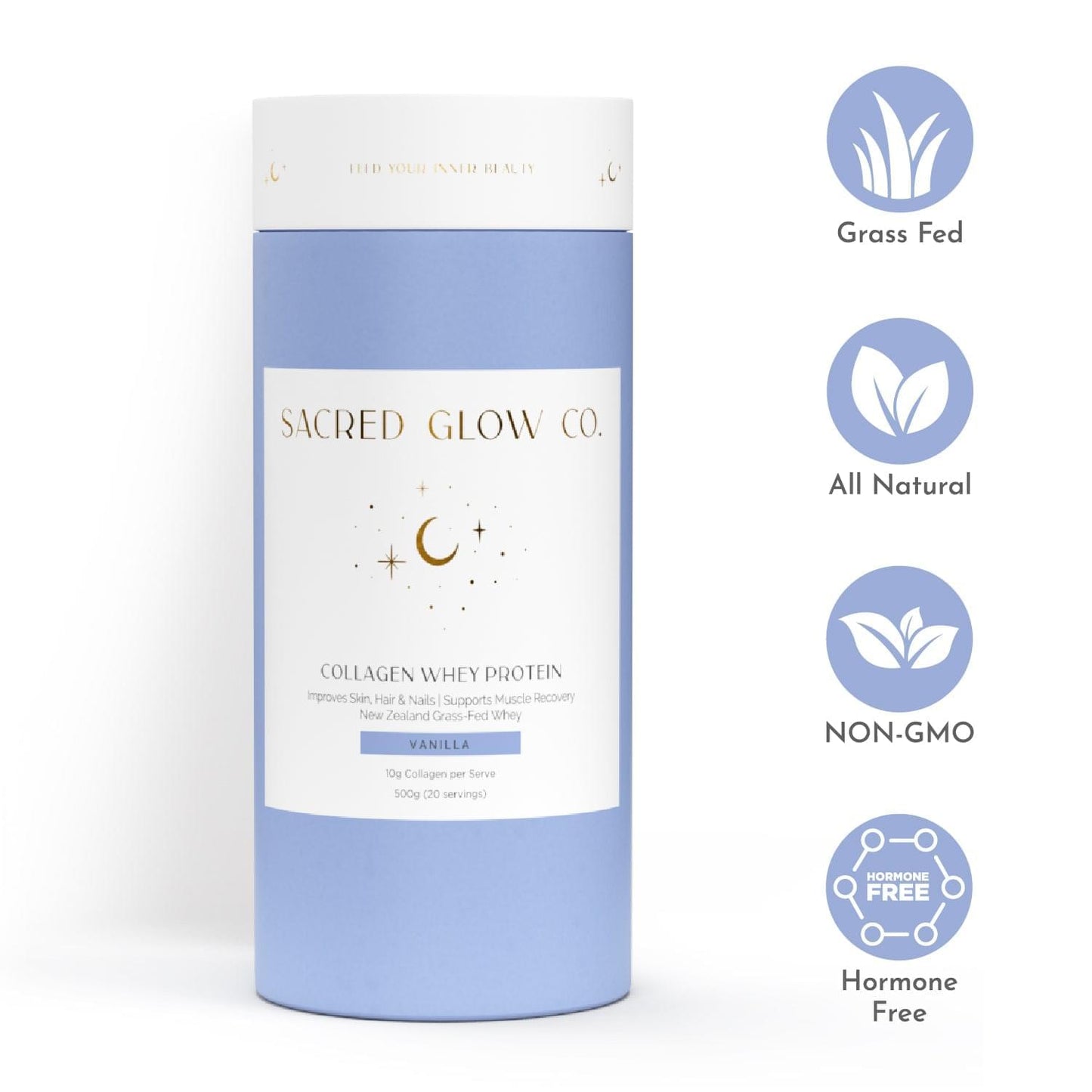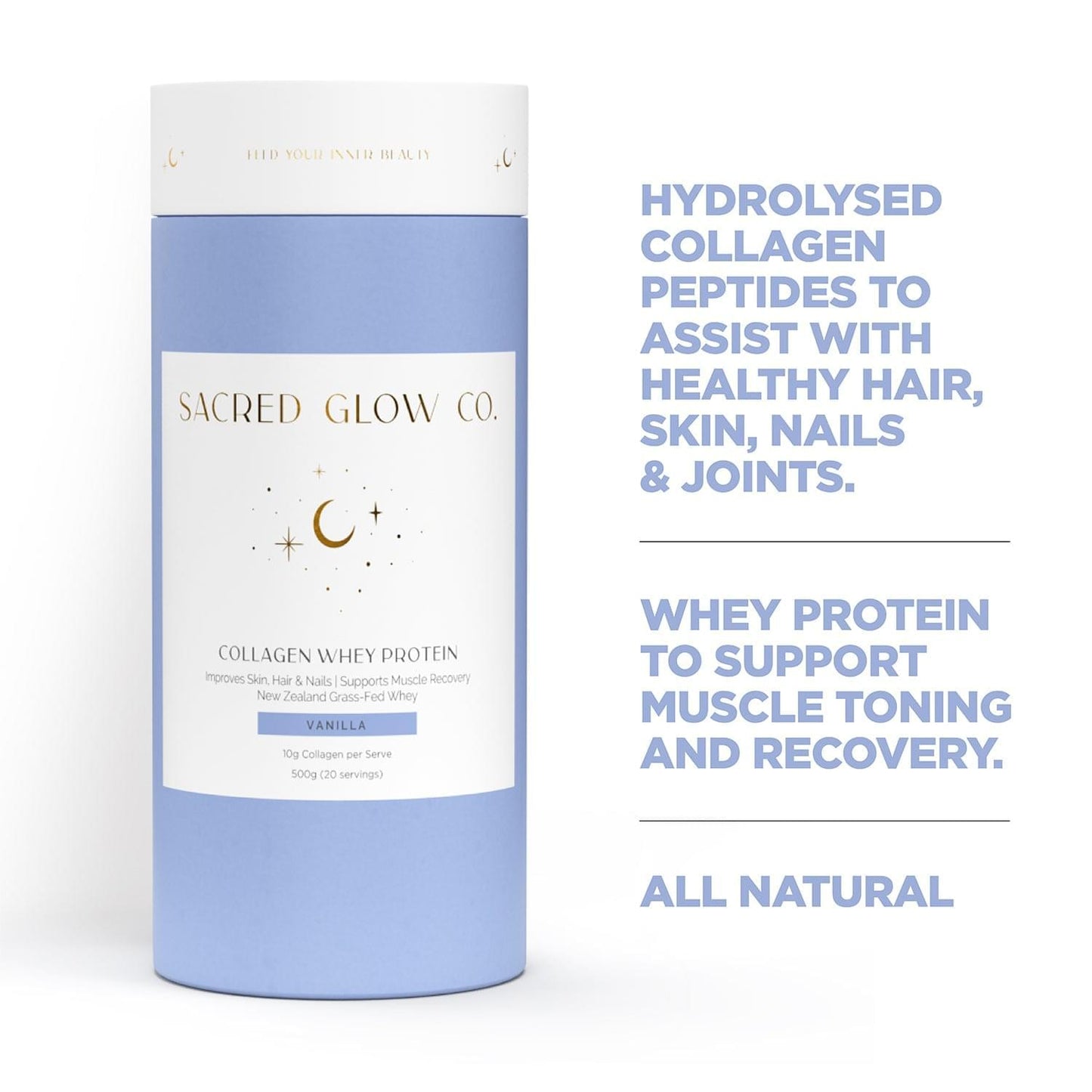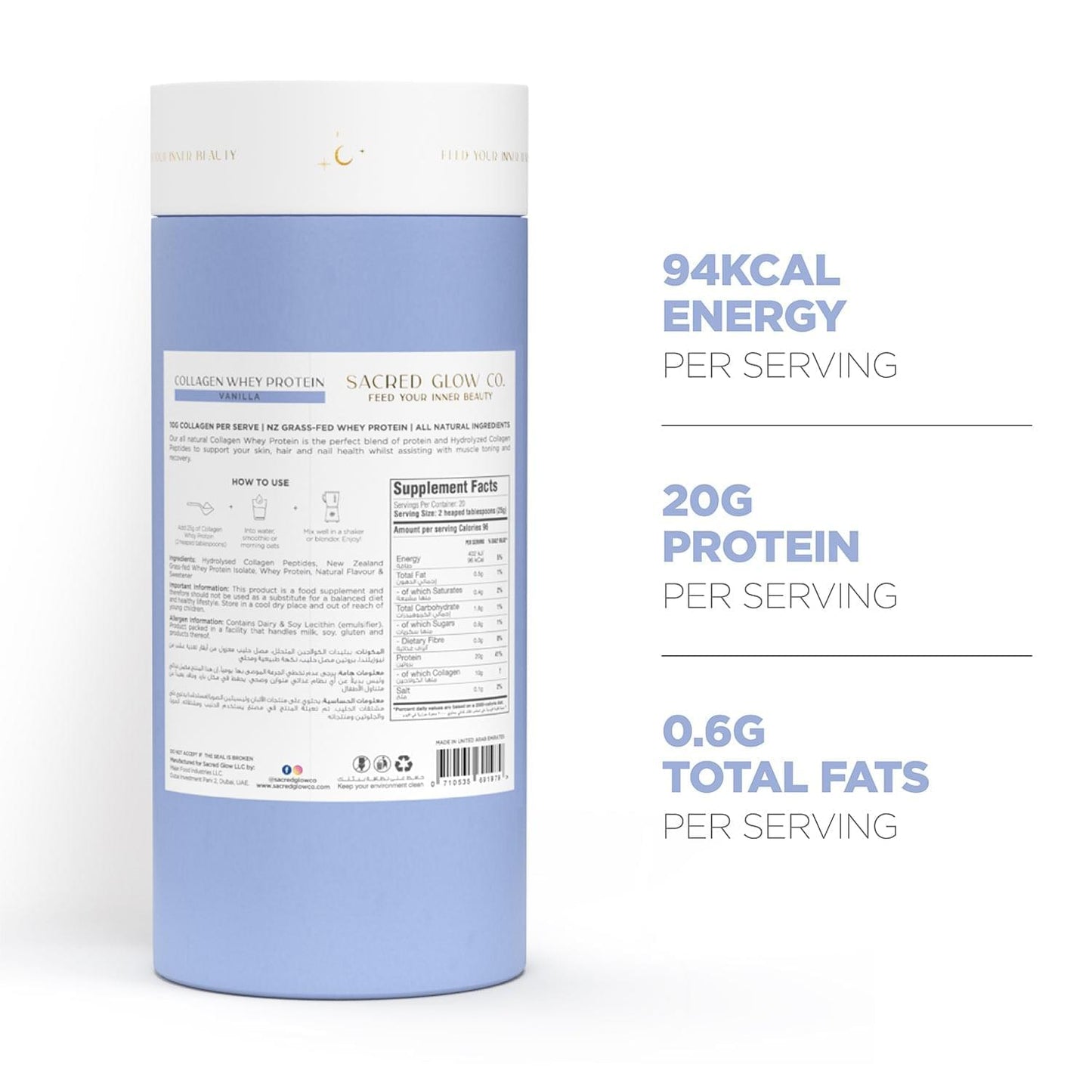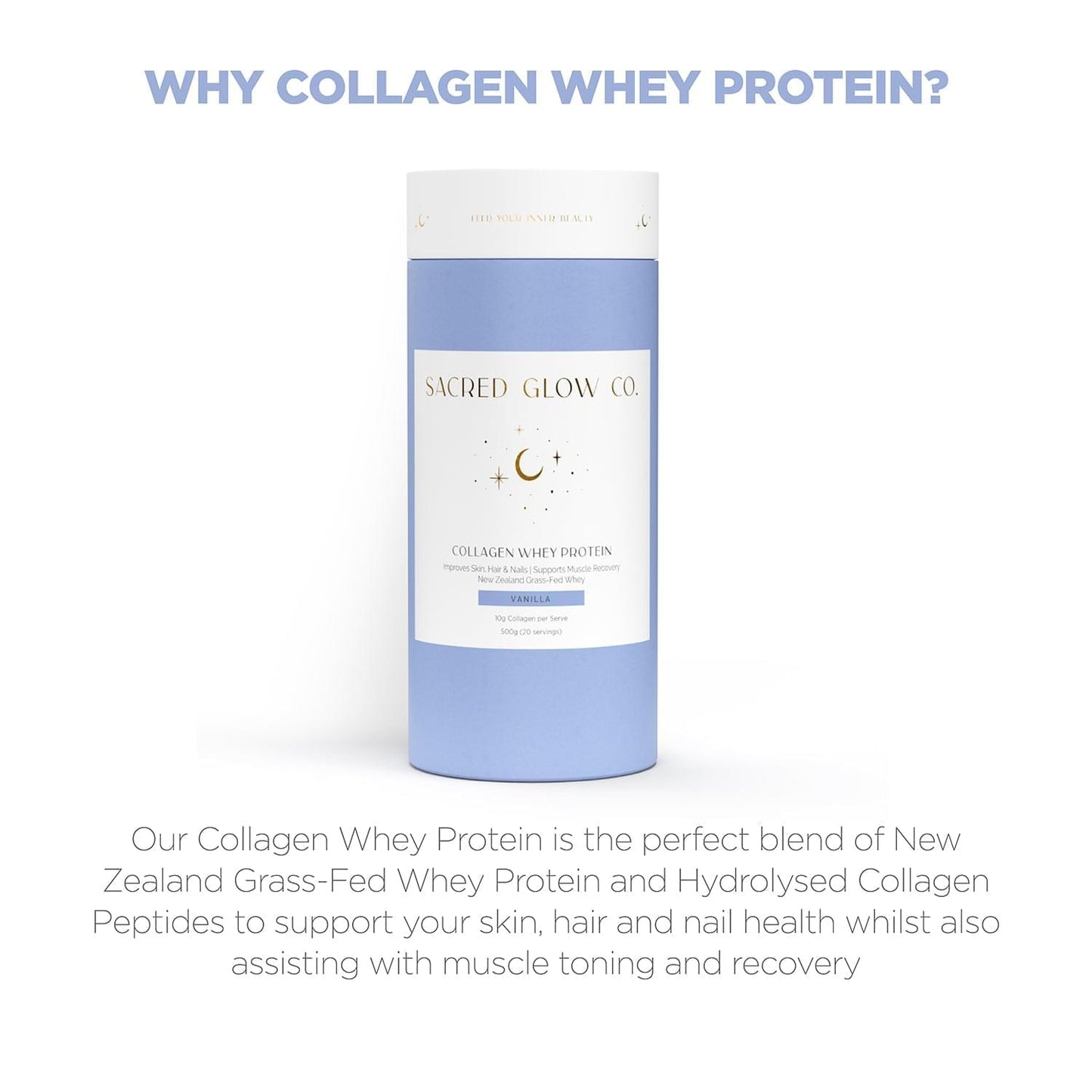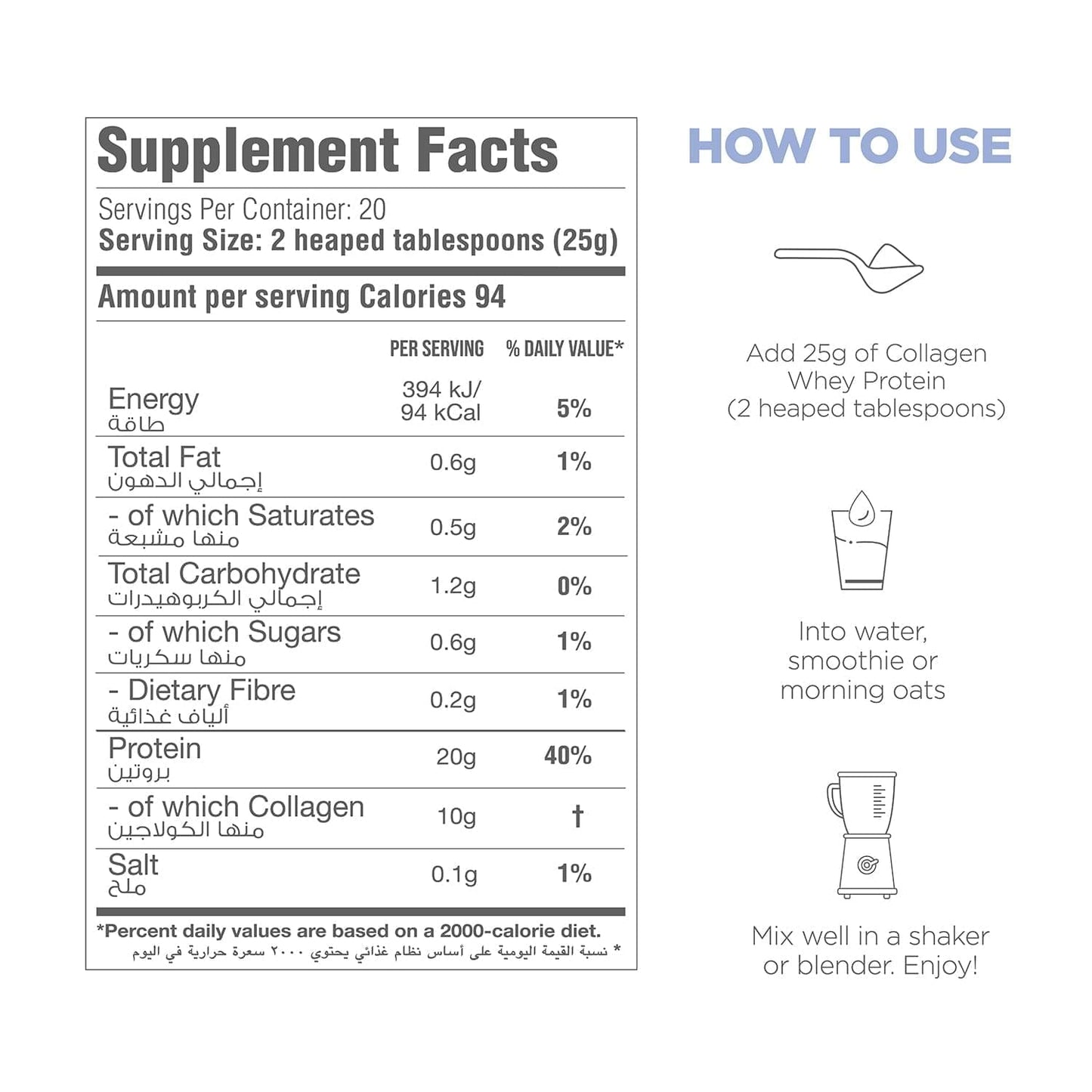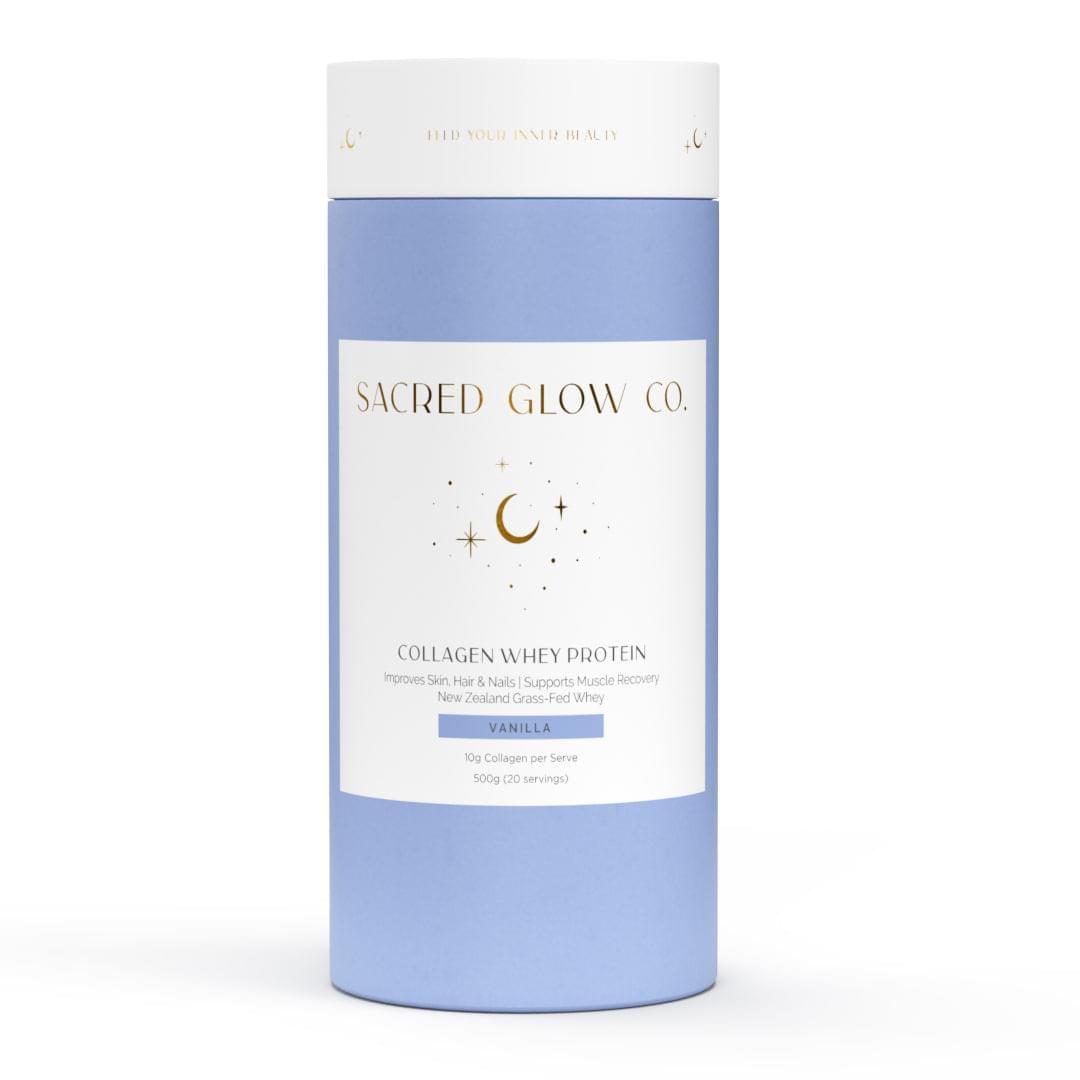 For muscle toning, recovery and overall health. Glow from the inside out!
Collapsible content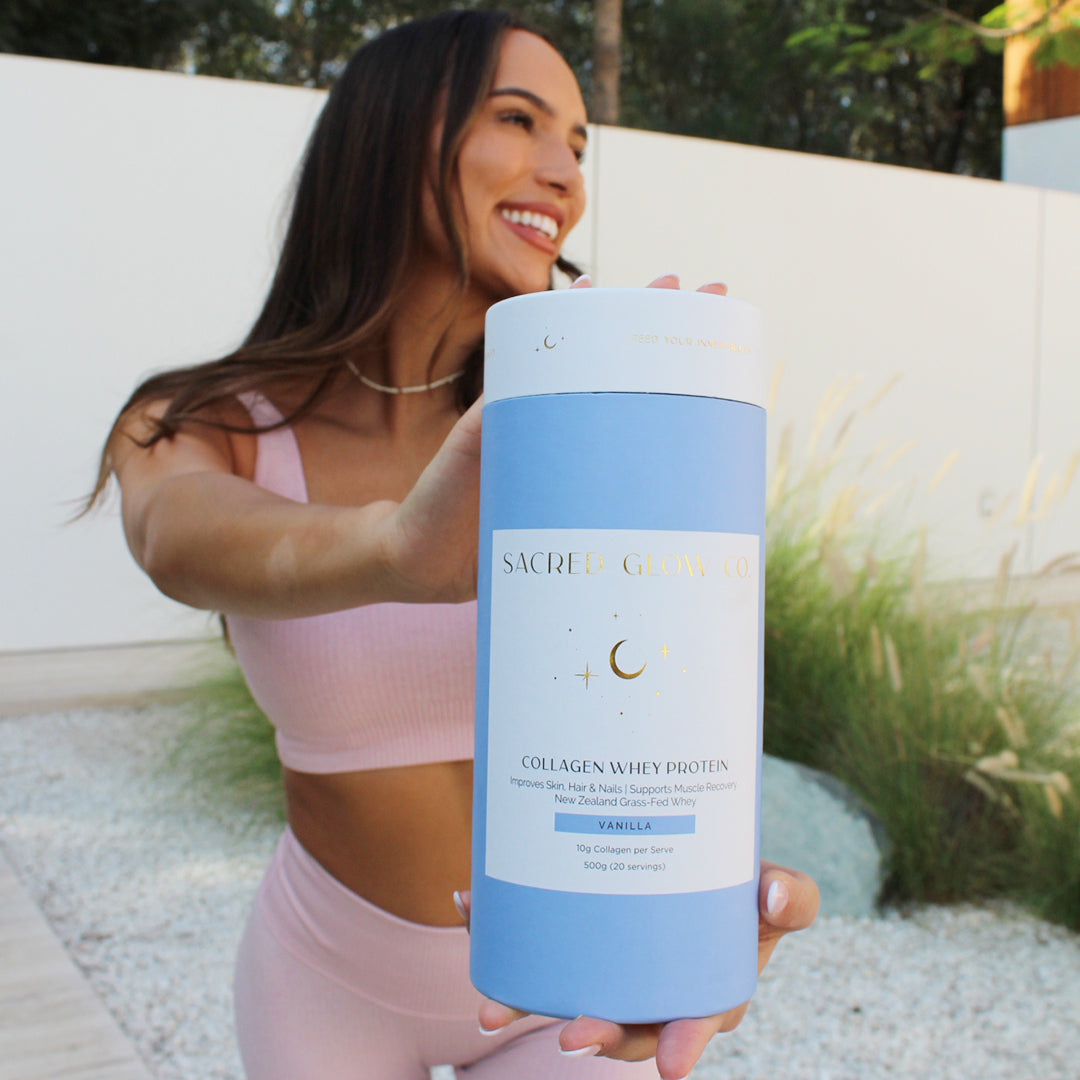 Our Vanilla Collagen Whey Protein is the perfect blend of New Zealand Grass-Fed Whey Protein and Hydrolysed Collagen Peptides to support your skin, hair and nail health whilst also assisting with muscle toning and recovery.
Grass Fed Collagen Peptides
All Natural

We onlly use the finest, all natural ingredients, flavours and sweeteners. No fillers. No fluff.
Delicious Flavours

Sacred Glow Co. Collagen Vanilla Whey Protein has been delicately refined so it tastes absolutely perfect when you add it to your daily protein needs whilst also adding creaminess to your smoothies.
Nothing Artificial

That's right, no artificial preservatives, fillers or additives. It's 100% guaranteed.
Plastic Free

We've redesigned our packaging to be more sustainable, without any compromise on luxury.
Collapsible content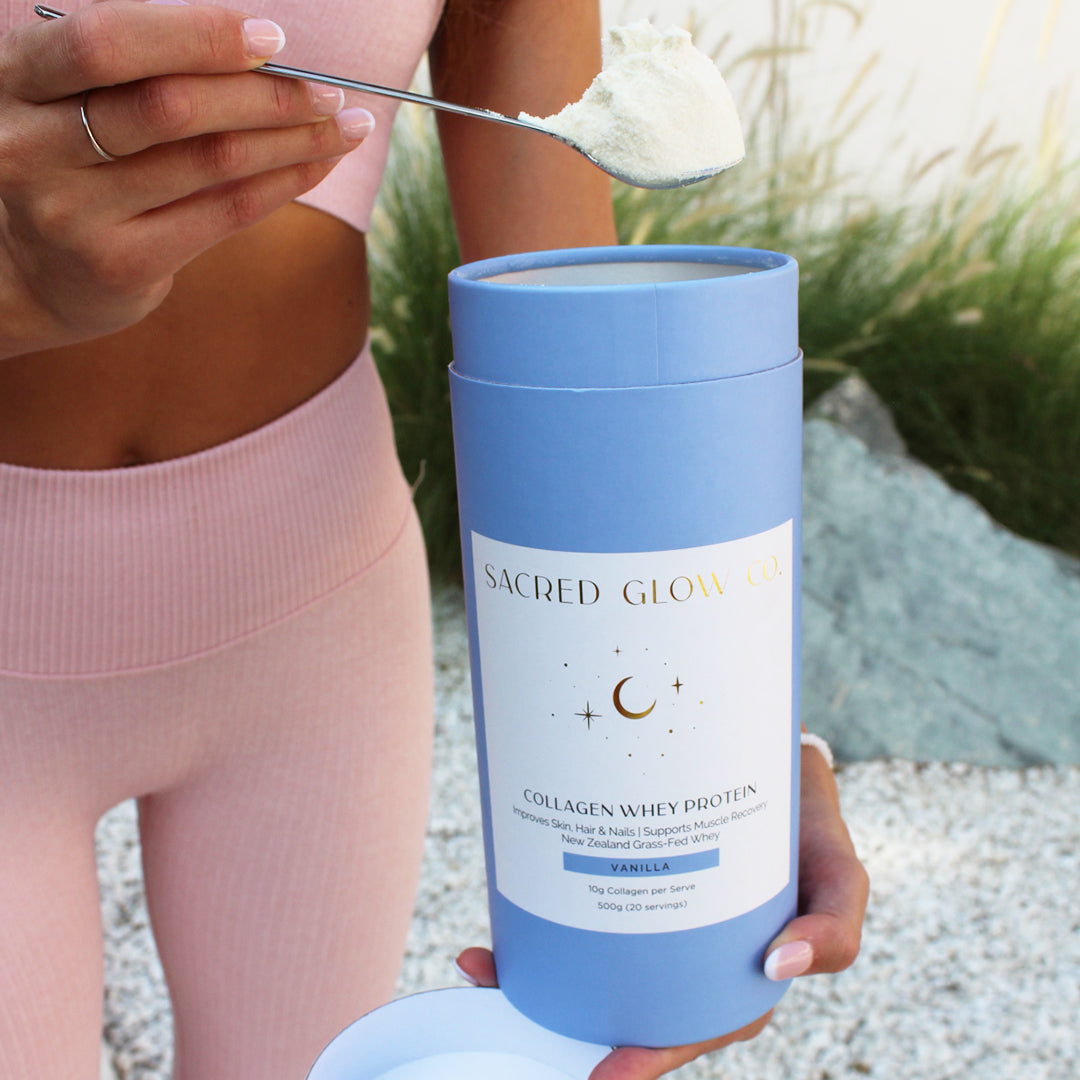 Why Collagen Whey Protein? It is the perfect combination of two amazing products, the purest and highest-quality collagen and purest and highest-quality whey protein. Collagen Whey Protein contains essential vitamins and minerals, which are vital foreveryday life.
Hair

Collagen Whey Protein works to prevent hair loss and strengten your hair naturally. Giving your hair the nutrients it needs to be fuller, shinier and stronger!
Skin

Our Collagen Whey Protein contains high amounts of one of the most important amino acids for your beauty routine: glycine. Studies have shown that adding collagen peptides to your diet can help improve the appearance of your skin, reduce the signs of aging and increase firmness.
Nails

Collagen Whey Protein promotes long and strong nails. One serve per day helps to strengthen nails from the inside out, boosting growth and resistance to breakage.
Muscle Toning

The whey protein component of our Collagen Whey Protein is the perfect supplement for bodybuilding and muscle toning thanks to its high content of amino acids that is needed for building muscles.
Muscle Recovery

Collagen Whey Protein is a specialized formula that maximizes muscle recovery, as well as helping you gain muscle.
Digestion

Collagen Whey Protein is one of nature's best sources for gut health. It's great for keeping your gut strong and healthy.
Why settle for supplements that are not clean, pure and best in class? Feed your inner beauty with Sacred Glow Co.
The Sacred Glow Co. Secret for Success

Comparison

Us
Them

Premium Ingredients

All Natural

Delicious Flavours

No Artificial Ingredients

Gluten Free and Non-GMO

Fresh Small Batch Manufacturing

Proven with 5 Star Reviews

Plastic Free Packaging
Frequently Asked Questions
Collapsible content
What are the benefits of our Collagen Whey Protein?

Our Collagen Whey Protein is packed with Hydrolysed Collagen Peptides to assist with healthy hair, skin, nails and joints. The combination of collagen and protein supports muscle recovery.
How can I use Collagen Whey Protein?

Add 2 heaped tablespoons to water (or any liquid of your choice) in a shaker or blender, shake /mix well and enjoy!
When will I start to see the benefits of using Collagen Whey Protein?

In some instances you will see results almost instantly, however in most cases you will start seeing results between 30 and 60 days.
Best collagen powder I've used
I have used a lot of different collagen powders in the UK and this beats them all! Not only does it make my coffees extra creamy, the vanilla taste is so organic and the protein keeps me filled up until late morning when I'll have my breakfast, meaning I'm eating alot less throughout the day. The subscription is so easy to amend and mega convenient. So happy I've found my new collagen source in Dubai!
Collagen Whey Protein Vanilla
It's delicious, mixes well and makes my coffee taste even better!
Delicious!
Loved having this in my morning oats, a little sweet but delicious and helped me meet my protein goals happily!
Collagen Whey Protein- Vanilla
Ordered for the first time Collagen Whey Protein - really loved the Vanilla flavor, it tastes great and not very sweet. Was taking it for a month before and after the gym.
Definitely will continue ordering it.Can't wait to try all available flavour.
Good
So far best protein collagen with clean ingredients I have tried,
The only brand protein which I am able to drink consume Expecting some clean drinks similar to collagen shakes with real fruit flavors and some new flavors in general to be added like strawberry