Regular price
Dhs. 219.00 AED
Regular price
Sale price
Dhs. 219.00 AED
Unit price
per
Sale
Sold out
Details & Benefits

Sustainably sourced from France our high quality & high strength Marine Collagen helps to increase your body's collagen supply, promote skin hydration and provides support for your muscles and joints, for an overall glow

Skin loving Vitamin C is a powerful antioxidant that helps the immune system & improves skin appearance

Hyaluronic Acid helps with skin hydration, the appearance of fine lines & wrinkles as well as improving bone strength

All natural & sustainably sourced from France.

10g of collagen per serve.

Hyaluronic acid for hydration & vitamin C for increased absorption.

Dairy Free & Gluten Free.

Ingredients & How To Use

Marine Collagen (from sustainably sourced fish), Vitamin C, Hyaluronic Acid, Natural Flavour and Sweetener (Stevia).

Add one heaped Tablespoon to water, a smoothie or beverage of choice

Tip: If you prefer an icy cold drink, we recommend mixing with room temp water & adding ice once it has dissolved

One serving per day will have you seeing visible results, if you prefer to fast track you can have one serving in the morning and one in the evening

Store in a cool, dry place out of direct sunlight

Supplement Facts
View full details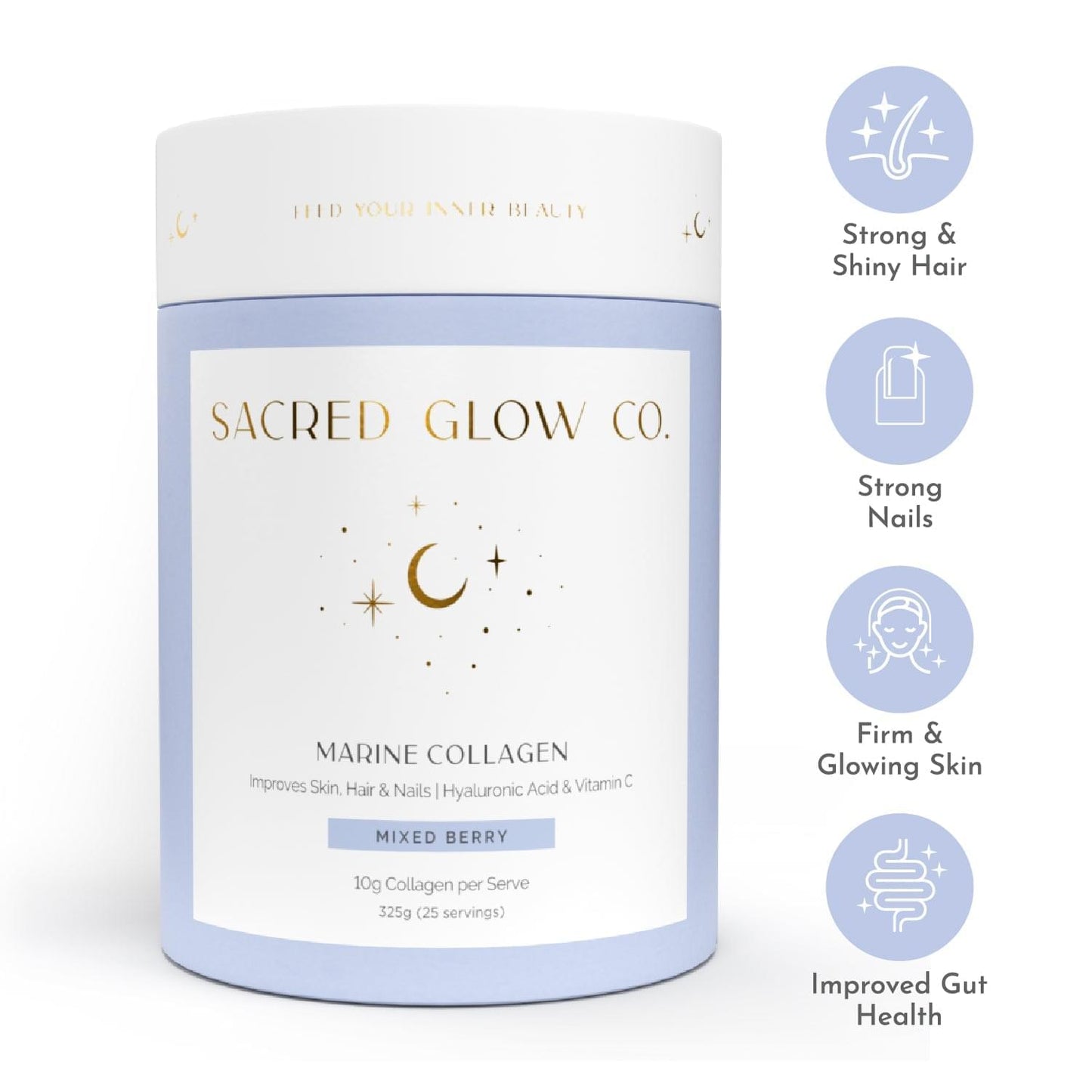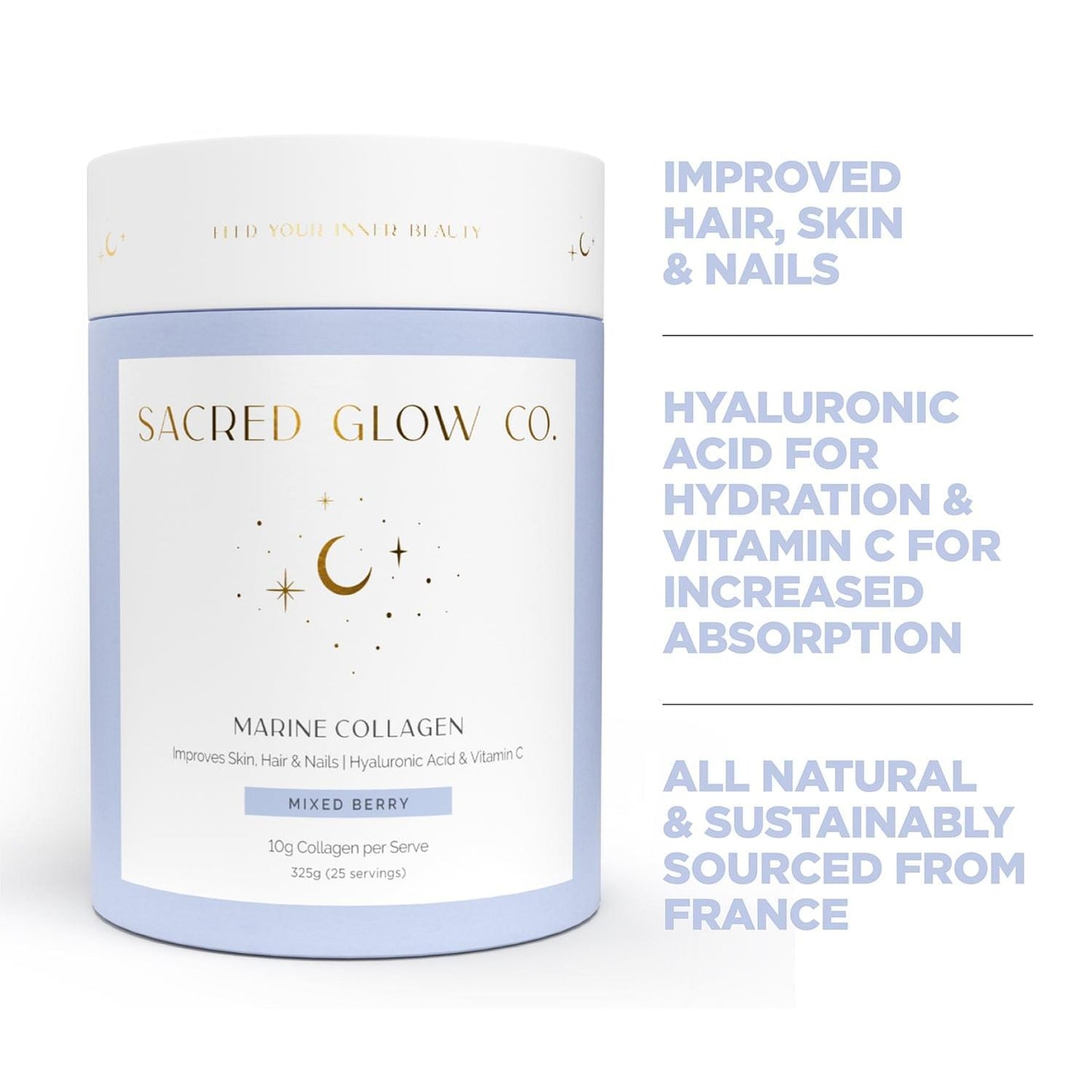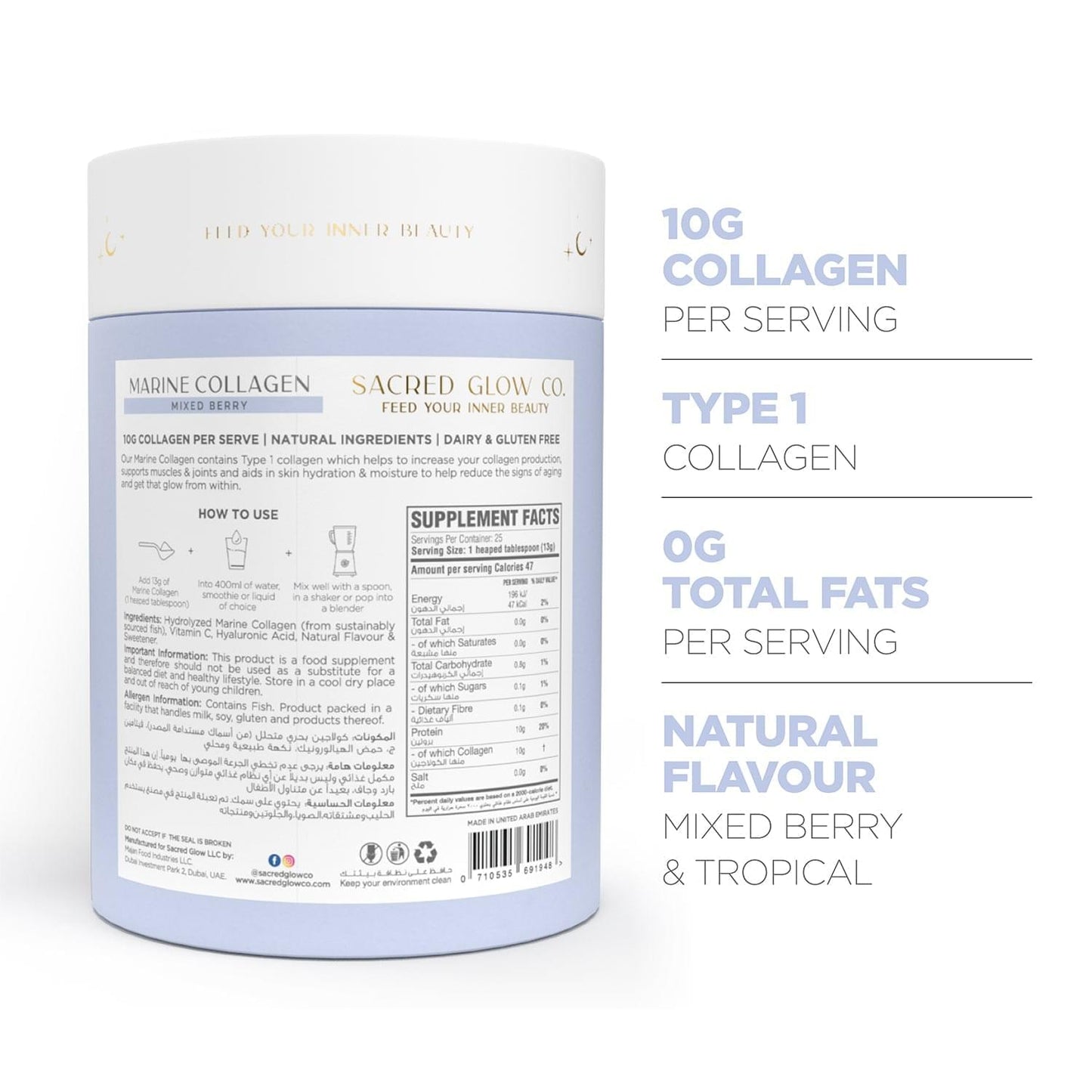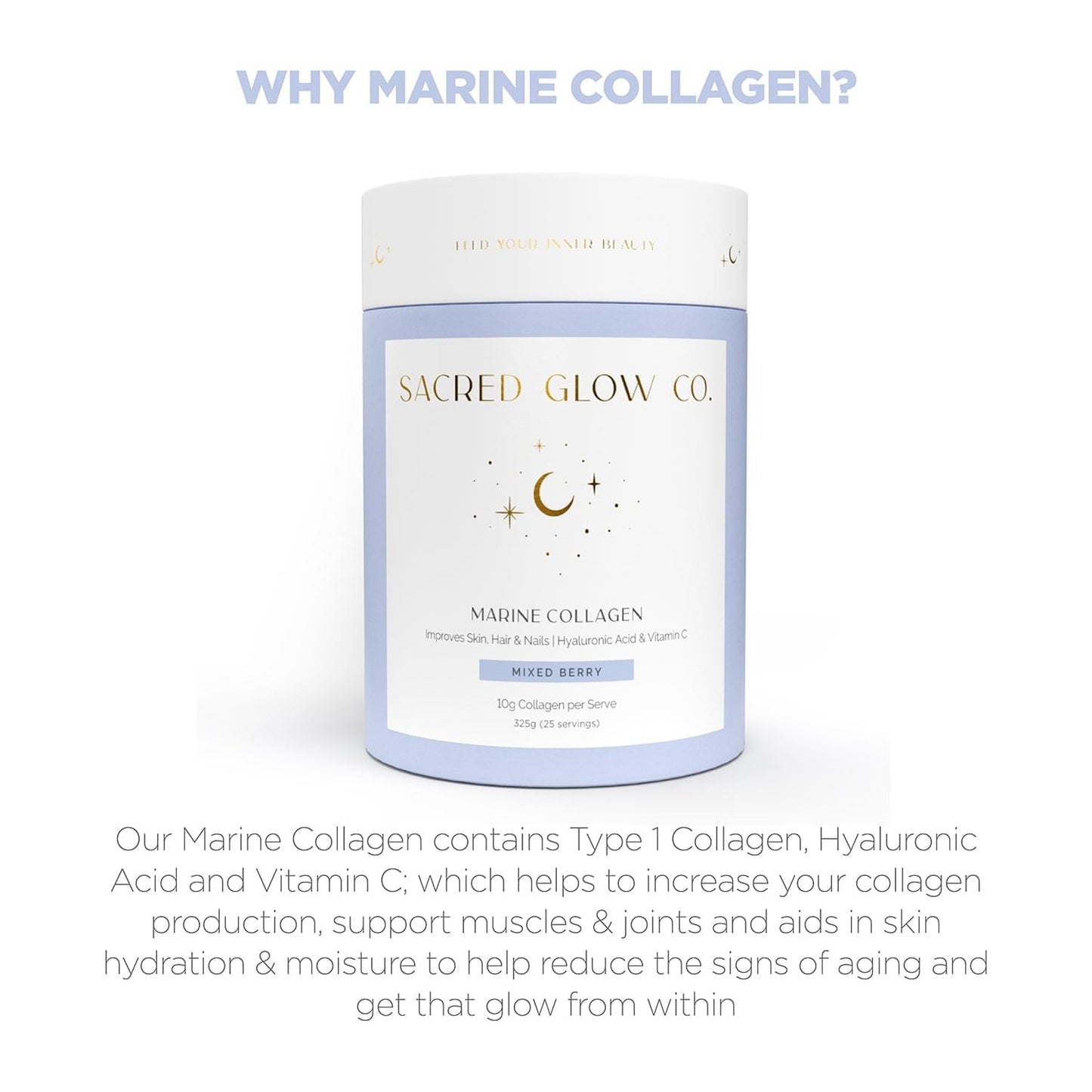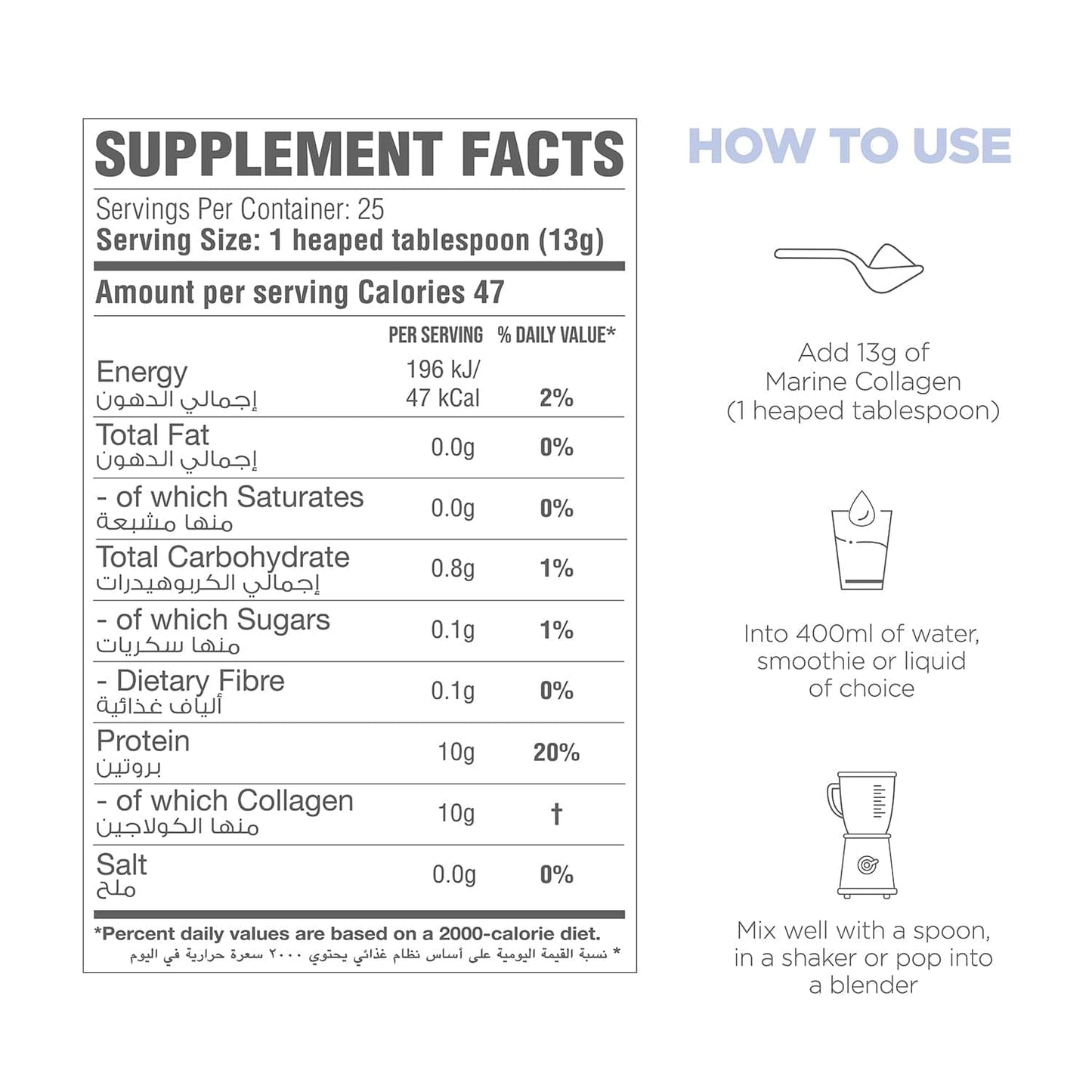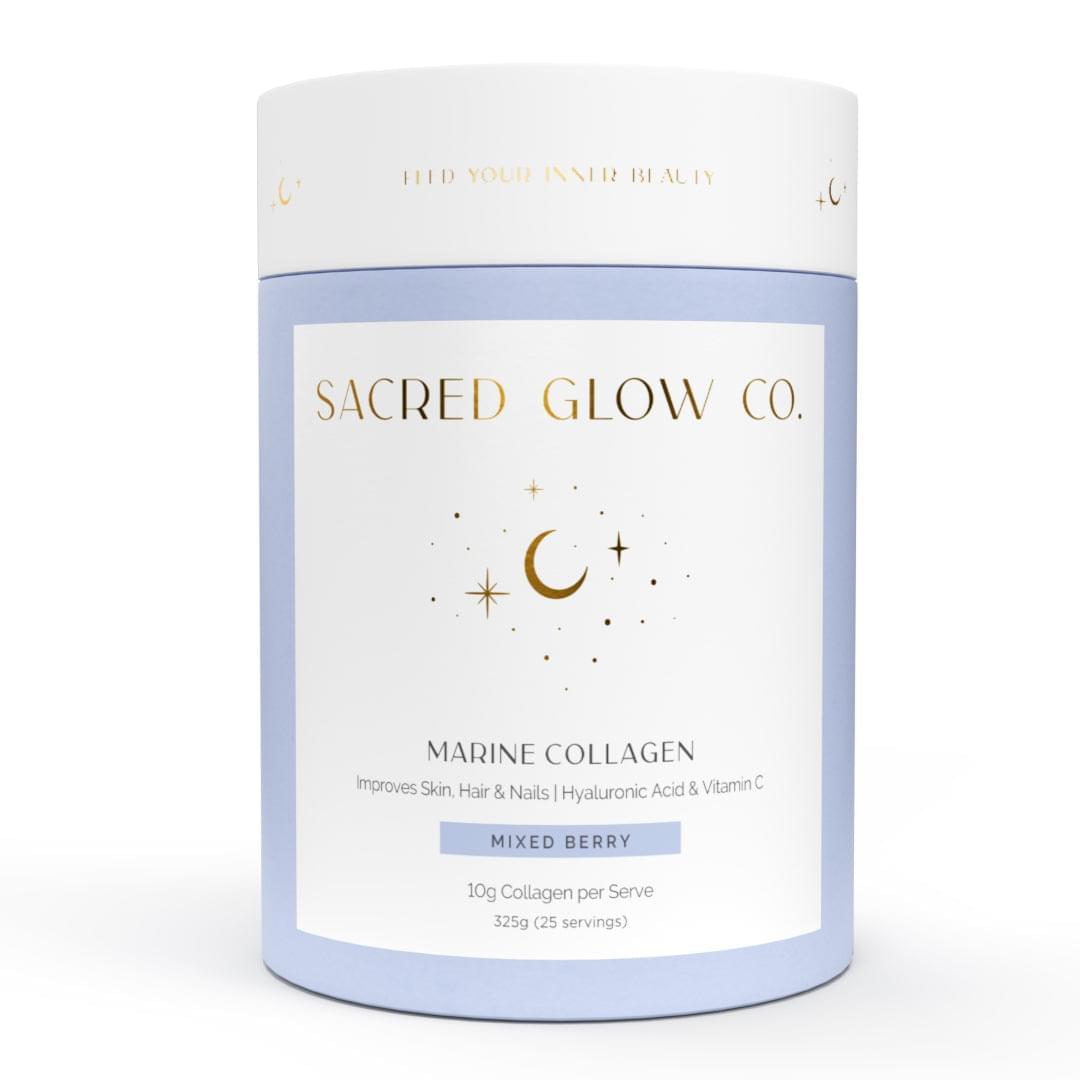 For hair, skin, nails and overall health. Glow from the inside out!
Collapsible content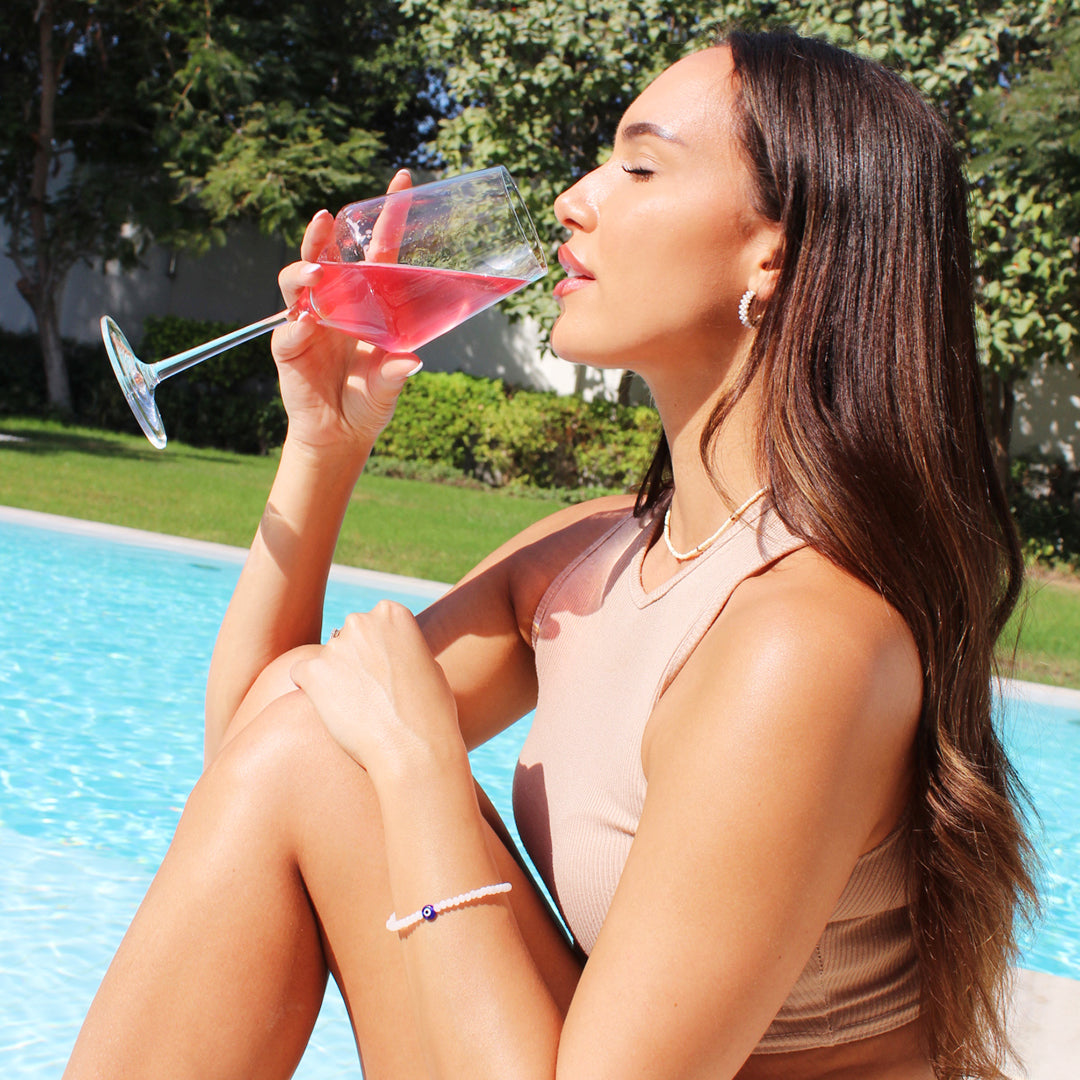 Discover the most effective Marine Collagen from France with added Hyaluronic Acid and Vitamin C. Improve your complexion, boost your energy and fight aging with our best selling Marine Collagen.
Naticol® Marine Collagen

Naticol is a premium marine collagen that's clinically proven to improve skin elasticity, hydration, firmness, smoothness and more.
All Natural

Hyaluronic Acid has taken the world by storm. Hyaluronic acid is one of the most effective ways to hydrate your skin and give it a youthful glow.
Delicious Flavours

Vitamin C is an essential nutrient that promotes collagen formation, reduces free radical damage and improves the appearance of skin.
Nothing Artificial

We have combined the finest marine collagen with natural sugars, flavours and sweeteners, to create an authentic tasting drink for any time of the day!
Plastic Free

We've redesigned our packaging to be more sustainable, without any compromise on luxury.
Collapsible content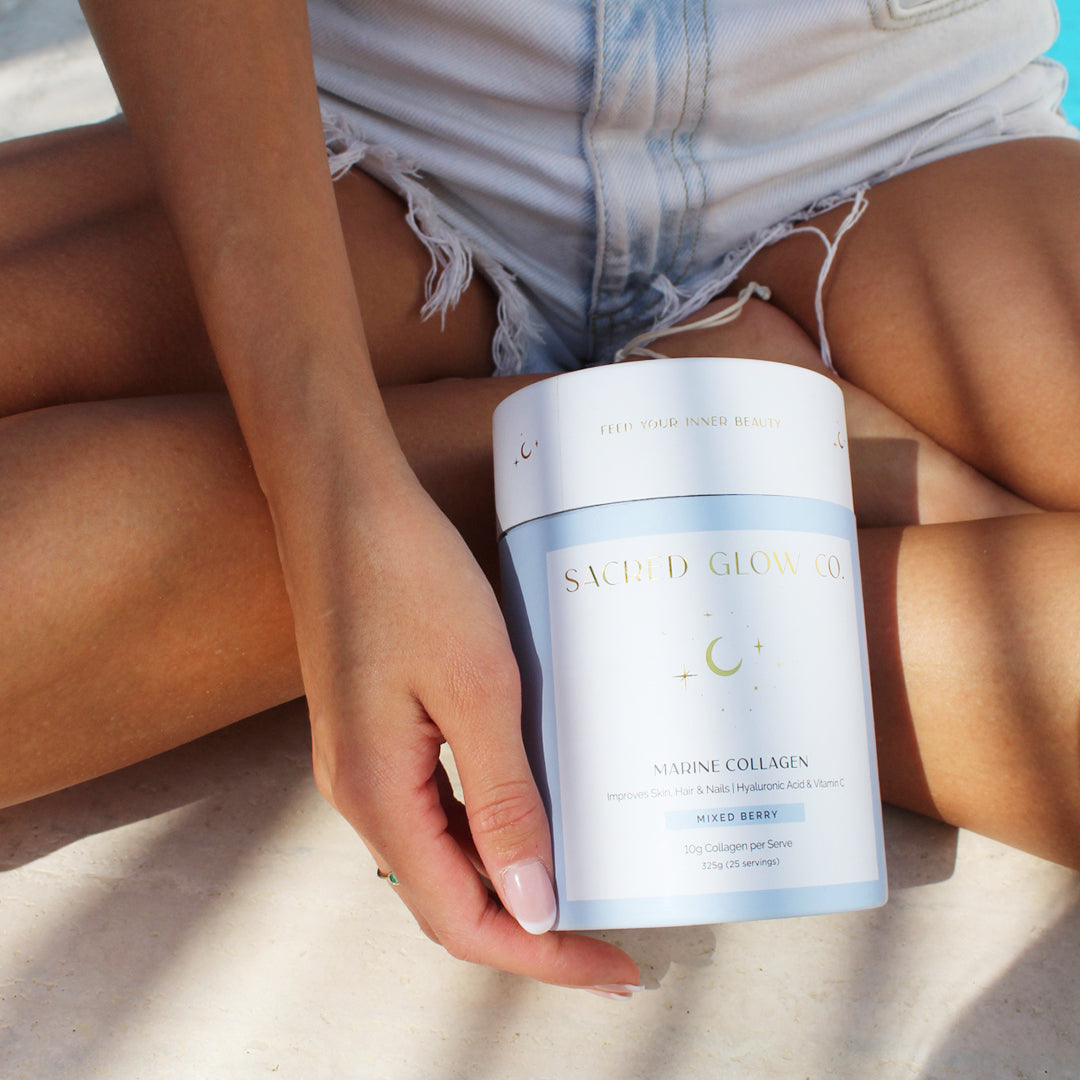 Our Marine Collagen contains Type 1 Collagen, Hyaluronic Acid and Vitamin C; which helps to increase your collagen production, support muscles & joints and aids in skin hydration & moisture to help reduce the signs of aging and get that glow from within
Hair

Our Marine Collagen contains collagen that works to prevent hair loss and strengthen your hair naturally. Giving your hair the nutrients it needs to be fuller, shinier and stronger!
Skin

Smooth, plump and visibly youthful skin. Our Marine Collagen with Hyaluronic Acid and Vitamin C is clinically shown to moisturize and lift the appearance of skin making you look radiant and beautiful.
Nails

Marine Collagen promotes long and strong nails. One serve per day helps to strengthen nails from the inside out, boosting growth and resistance to breakage.
Joints

Marine Collagen is a great way to support healthy joint function on a daily basis. It has the most compelling clinical evidence for joint health, and doesn't just mask the symptoms like pain killers and anti-inflammatories.
Bones

Incorporating our Marine Collagen into your diet and routine can help increase calcium absorption and improve bone mineral density.
Digestion

Marine Collagen is one of nature's best sources for gut health. It's great for keeping your gut strong and healthy,
Why settle for collagen supplements that are not clean, pure and best in class? Feed your inner beauty with Sacred Glow Co.
The Sacred Glow Co. Secret for Success

Comparison

Us
Them

Premium Ingredients

All Natural

Delicious Flavours

No Artificial Ingredients

Gluten Free and Non-GMO

Fresh Small Batch Manufacturing

Proven with 5 Star Reviews

Plastic Free Packaging
Frequently Asked Questions
Collapsible content
What are the benefits of our Marine Collagen?

On top of the normal benefits of collagen (skin, hair, nails and joints); our Marine Collagen also contains Hyaluronic Acid and Vitamin C to help with skin hydration and the appearance of fine lines & wrinkles.
How can I use Marine Collagen?

Add one heaped tablespoon to water, a smoothie or any beverage or your choice. If you prefer a cold refreshing drink, add our Marine Collagen to water first, stir it, and then add some ice.
When will I start to see the benefits of using Marine Collagen?

In some instances you will see results almost instantly, however in most cases you will start seeing results between 30 and 60 days.
Refreshing Drink
I've been a customer of Sacred Glow for a couple of months now, and I really like their products. The mixed berry marine collagen is so refreshing and healthy. I used to drink instant powder juices, but that was nothing but sugar, artificial colors and flavors. I'm sticking to this one.
Berry expectations
Just started with my first tin of Marine Collagen-Mixed Berries after clearing a few doubts related to its sweetness and believe me it tastes refreshing. I love to have it with cold iced water.Its just my first so it will be wait and watch per se off course regulating my diet too. Thank you Sacred glow.
First time user
Tastes great. Not fishy at all!!
Great quality product but too sweet for me
I really liked the feel and texture of this as well and you can tell it's a clean product. Unfortunately for me though it was far too sweet and I didn't enjoy drinking it.
Hi Sandra, thank you so much for your feedback. If it's too sweet for you, try adding more water to dilute it, this should make it less sweet. Hope this helps :).
Marine callagen
Ive been using it for almost a year and I saw impressive results on my skin.