Regular price
Dhs. 222.40 AED
Regular price
Dhs. 278.00 AED
Sale price
Dhs. 222.40 AED
Unit price
per
Sale
Sold out
Details & Benefits

Double the collagen, double the benefits! This bundle contains our best-selling Collagen Peptides & our Collagen Whey Protein - Chocolate.

They both help to achieve that glow from within as well as supporting gut health, muscles & joints & growing longer, stronger hair & nails.


Ingredients & How To Use

Collagen Peptides

Hydrolysed Collagen Peptides (Bovine) 100%


Add one heaped Tablespoon to your hot drinks, smoothie or beverage of choice


Collagen Whey Protein - Chocolate


Hydrolysed Collagen (Bovine), Grass-Fed New Zealand Whey Protein Isolate, Whey Protein.

Add two heaped tablespoon to water in a shaker or blender with liquid of your choice.

What's Inside

1 x Collagen Peptides

Collagen Peptides works from the inside out, supporting gut health & joint function as well as helping you to achieve glowing skin, healthier hair & stronger nails.

1 x Collagen Whey Protein - Chocolate

Provides 20g of Protein, of which 10g is Hydrolysed Bovine Collagen and 10g of NZ Grass Fed Whey Protein, our high dose Collagen Whey Protein assists with healthy hair, skin and nails whilst also supporting muscle recovery & improving gut health
View full details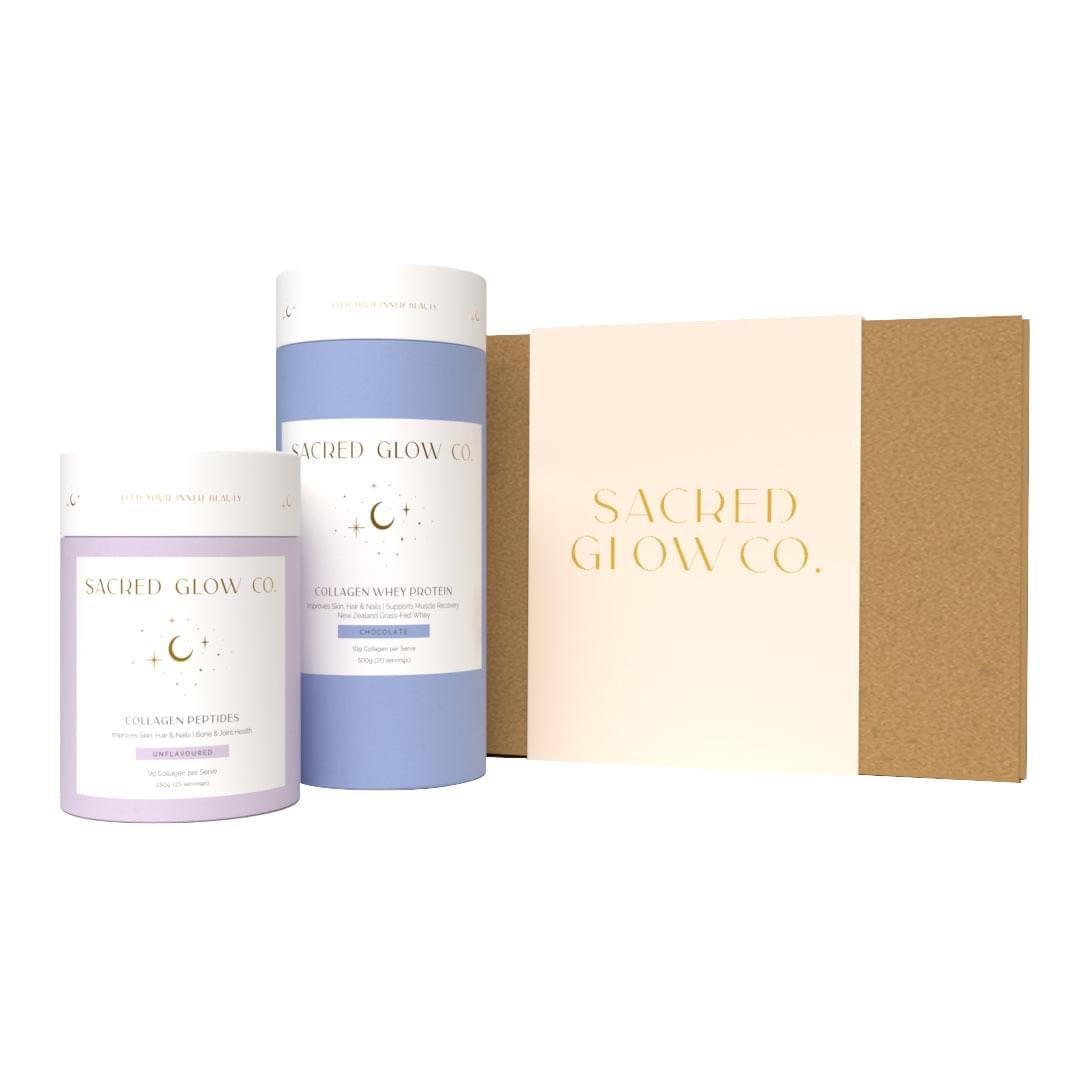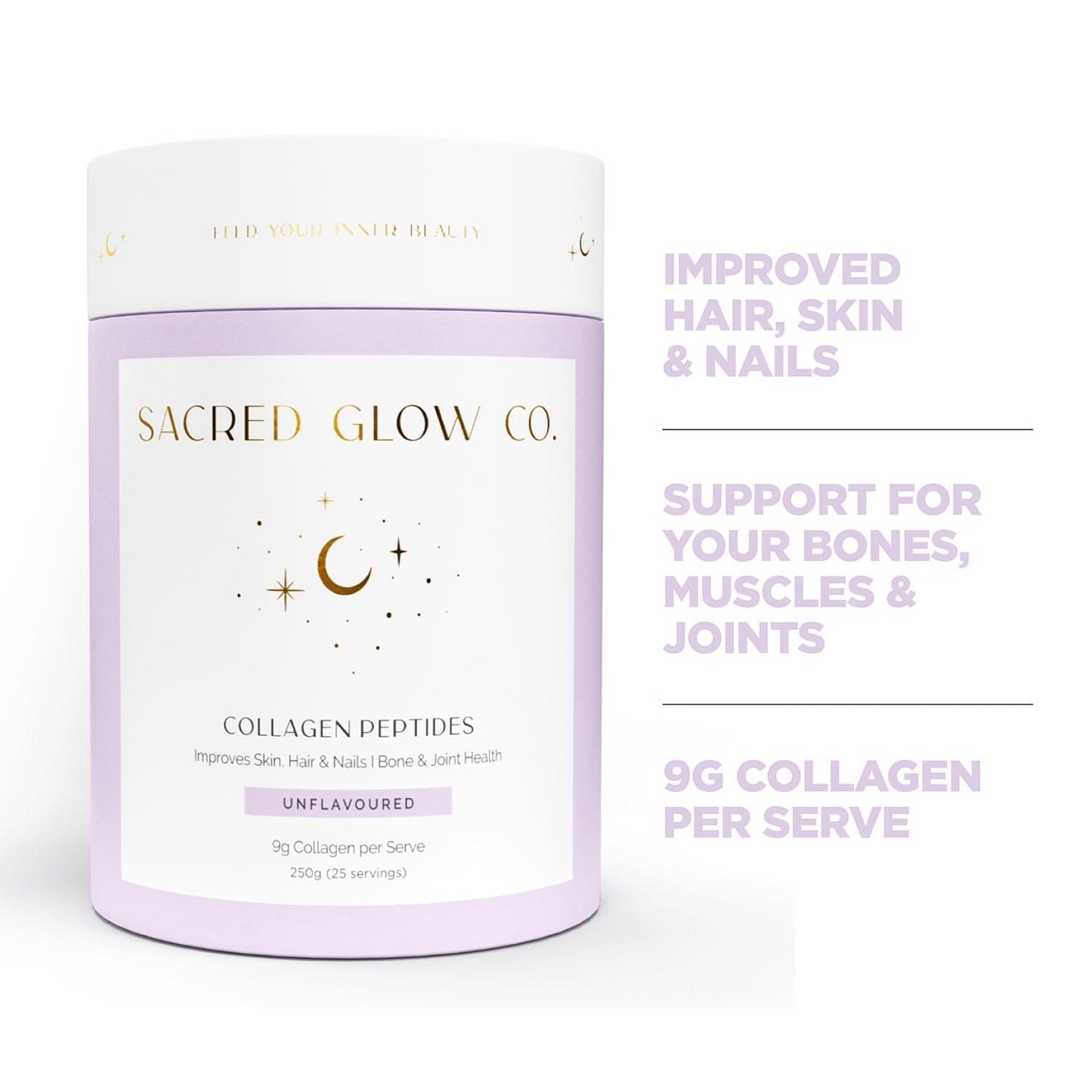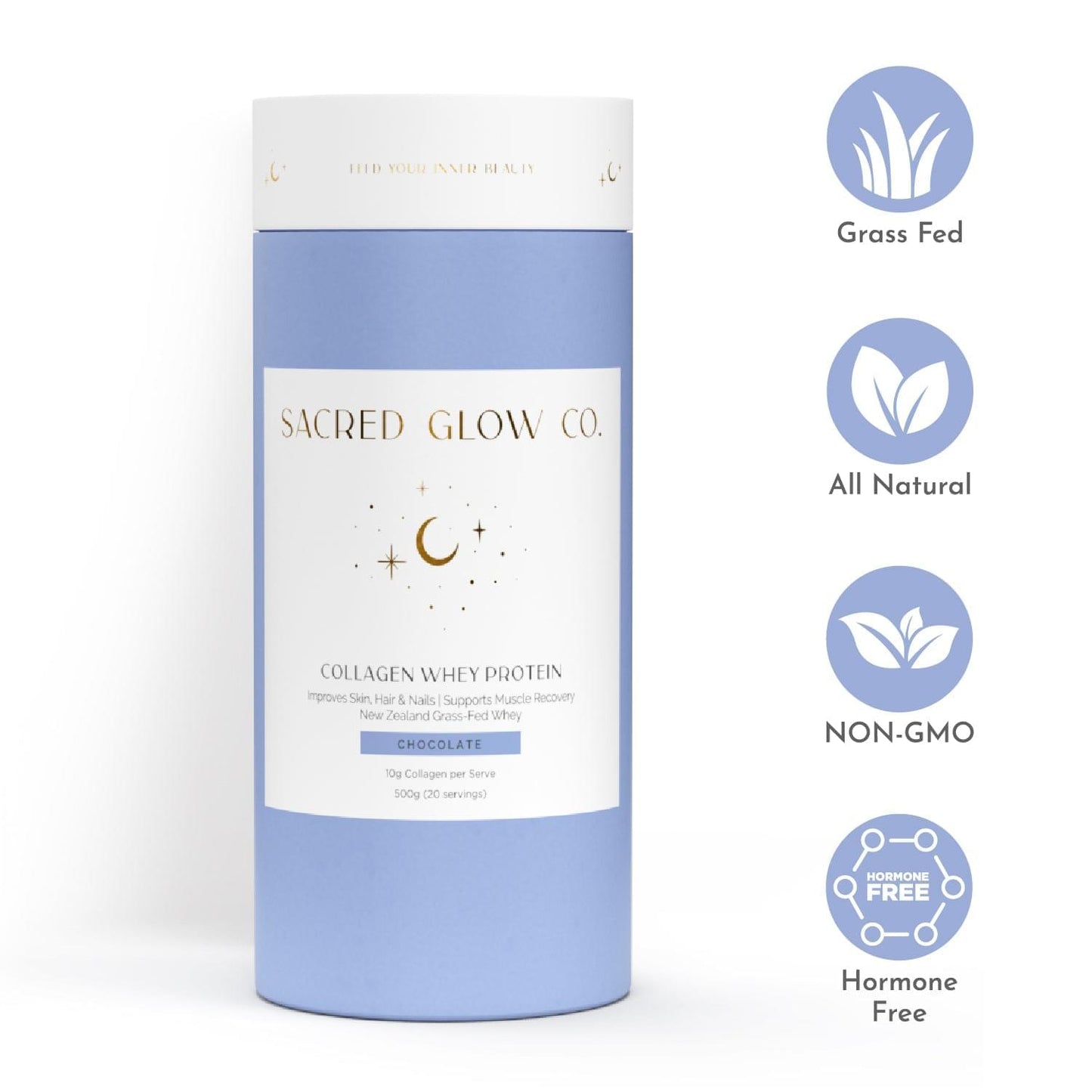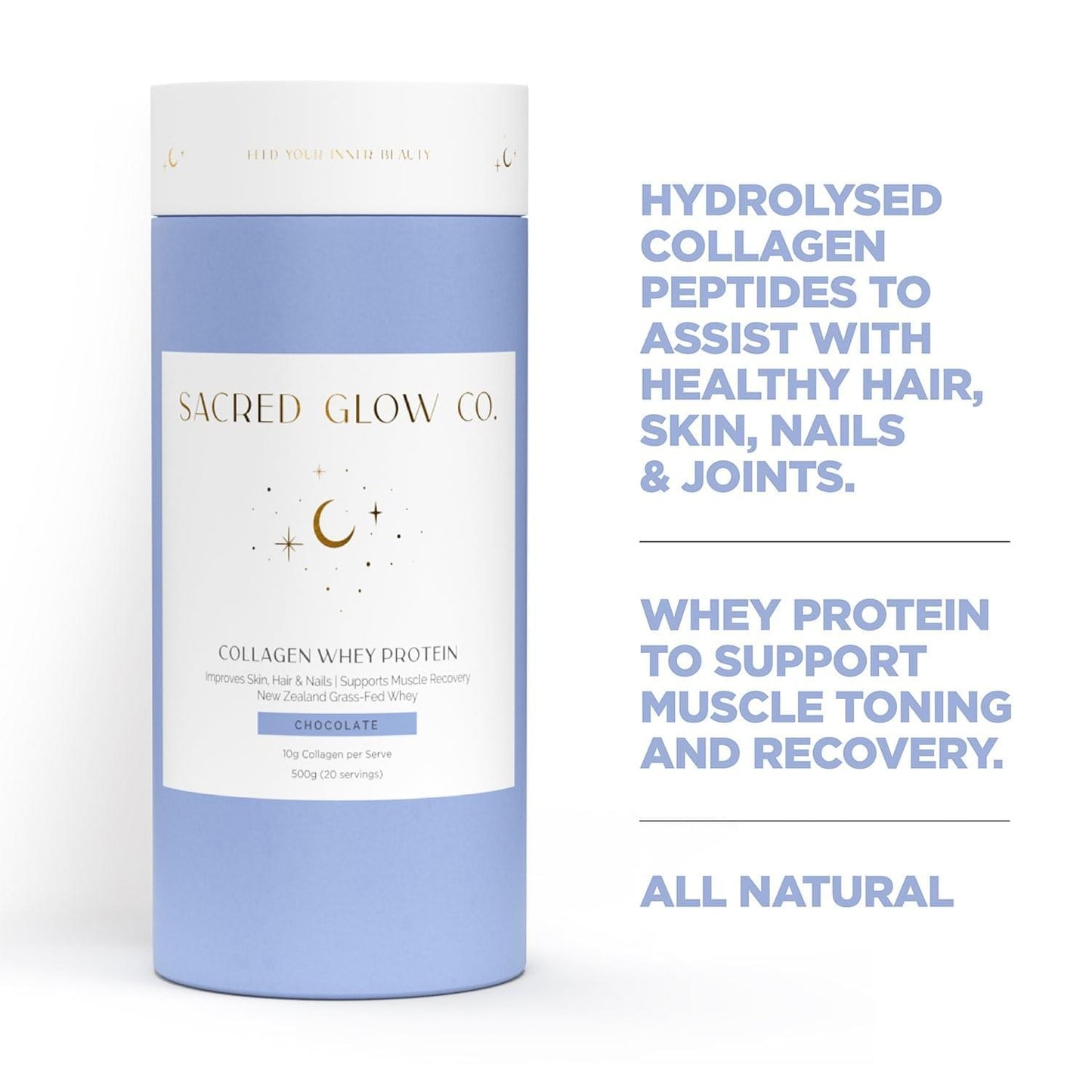 For hair, skin, nails and overall health. Glow from the inside out!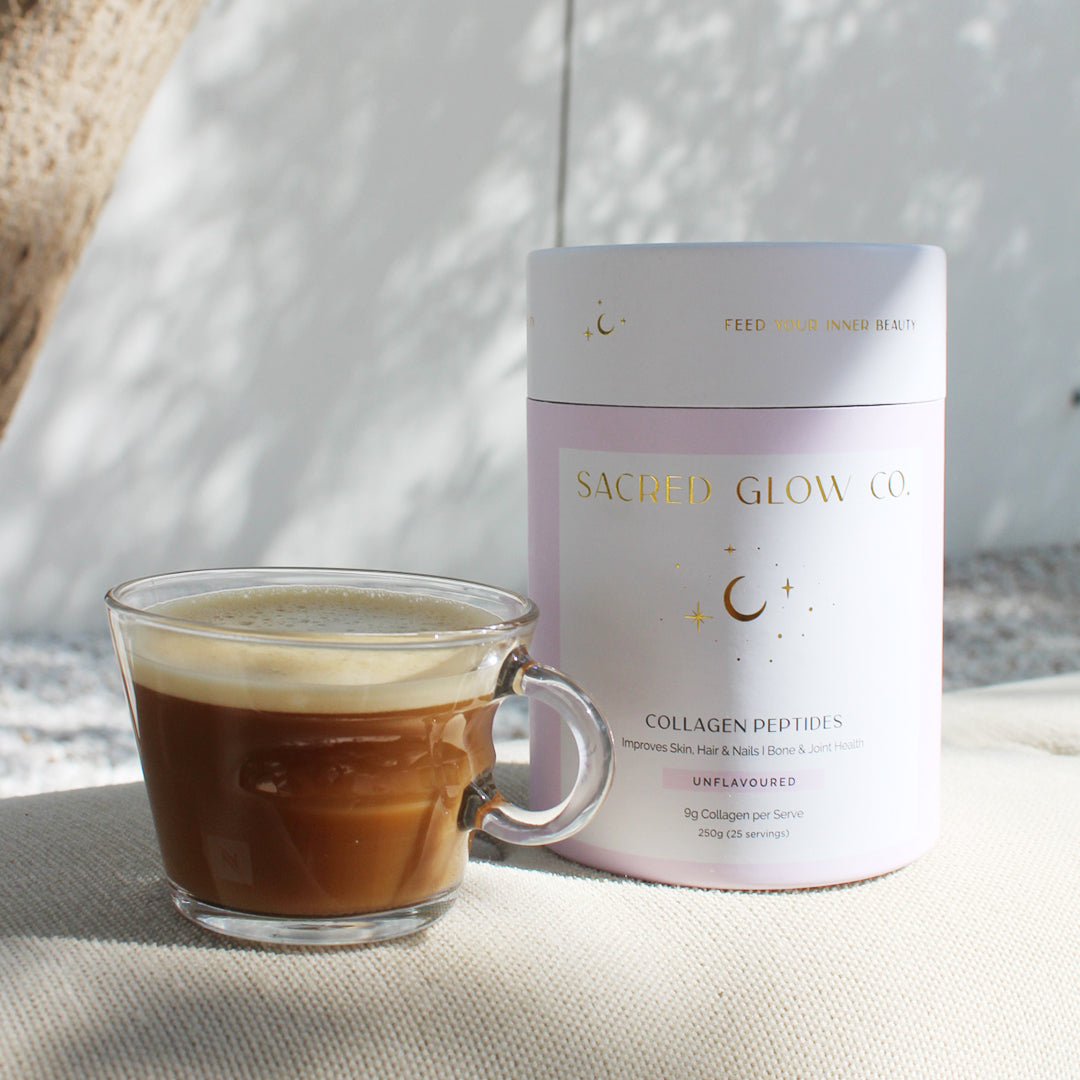 Collagen Peptides
Our Hydrolysed Collagen Peptides is an easy & versatile supplement to get that glow from within, providing skin benefits as well as Collagen support throughout the whole body .
9g collagen per serve.
Improved Hair, Skin & Nails.
Support for your bones, muscles & joints.
Dairy & Gluten Free
Why settle for collagen supplements that are not clean, pure and best in class? Feed your inner beauty with Sacred Glow Co.
The Sacred Glow Co. Secret for Success

Comparison

Us
Them

Premium Ingredients

All Natural

Delicious Flavours

No Artificial Ingredients

Gluten Free and Non-GMO

Fresh Small Batch Manufacturing

Proven with 5 Star Reviews

Plastic Free Packaging
Best
Tastes amazing with milk or soy milk or even with Almond milk. You can even have it with plain water if you wanna keep calories down . Within 2 weeks there is so much of difference in your skin nails 💅 and hair loss stopped by 50%
Love this!!
Amazing results within a few days. Definitely recommending everyone to take this daily!
5 out 5 stars!
I'm very pleased with Sacred Glow.
Both, whey and vegan proteins are smooth and easy to digest, perfect for someone with sensitive stomach.
Collagen Peptides were a great add to my daily routine, decreasing my hair loss and helping with hair growth and thinning.
Gives our skin super glow and texture
After 40 I felt my skin going day by day dry and liveless. After starting sacred Glow. My skin feels better and its elasticity getting better. My favorite whey protein chocolate flavor which I m usually enjoy in my smoothies.
Next I would like to try marine collagen.
Love it
I have tried various type of collagen,from tablets to powder.Most of them has after taste and smell that i didnt like but this product,(collagen and whey protein)it makes me feel like i want to to drink it more than the recommended dose(lol)especially the whey protein,it taste so good and it really helps to increase my muscle mass which was the main purpose why i purchased it,and i swear with their collagen peptide it does firm your skin and gives you fresh glow!I would love to order again as i already finish it!